I would like to thank Highlands Intermediate School Principal Mrs. Amy Martinson and Science Teacher Mr. Angelo Laskowsky for last week's tour of the schools Aquaponics learning center and science lab. I was extremely impressed with the wide variety of healthy plants and trees (that includes native Hawaiian species), who are flourishing while being the direct beneficiaries of their co-existence and partnership with a special cross-breed of Tilapia/Coi fish called Koilapia.
Koilapia is product of the University of Hawaii's College of Tropical Agriculture and Human Resources (CTAHR). Highlands Intermediate originally received a donation of Koilapia from CTAHR to start their aquaponics program.
Highlands Intermediate students excel in their open-air science lab classroom via a sustainable base and blend of Hydroponics and Aquaculture. The students learn the important and integral role that science plays in caring for the environment while engaging them scientifically with the elements of sustainability in growing their own food.
The balance of life comes full circle through hard work, care, and learning process as the students feed the fish, the fish feed the plants, and both fish and plants feed and nourish recipients from each successful and abundant harvest.
Amy Martinson, Principal, Highlands Intermediate School
"This is a learning center for students. They come and learn about agronomy, they learn about fishery, but more about taking care of the environment. One way to take care of the environment is to grow your own food, and this is one way to grow your own food. This project is with the help of the state. They help put this up. In here, this is a way for the students to learn about all those wonderful topics in science. The students love it."
Angelo Laskowsky, Science Teacher, Highlands Intermediate School
"The thing that resonates with me and what every student says in my classes, just the idea that they never realized that science can be something that they touch. They might understand the theories and the other stuff, but then they come here and they have to apply it all. The other science classes come here as well. It's not just an aquaponics garden where they learn environmental and sustainability, they apply real world science.
The reason why the whole aquaponics system works is because of the nitrogen cycle. They have to figure out the chemistry in the water. They have to figure out the biology of the animal and what's going on so they can make the plants and make the fish grow better. The students take incredible pride in this. This is truly student driven and truly a big part of our school."
During the COVID-19 pandemic, Mr. Laskowsky has been tasked with maintaining the schools aquaponics outdoor classroom lab. Social distancing limitations have kept students temporarily away from participating in daily outdoor lab lessons as well as the care and maintenance for the plants and fish. Before COVID-19, Mr. Laskowsky's aquaponics science program included two classes with over 60 students.
Plans are underway to invite community volunteer groups to invest their time in support of much needed maintenance duties for the aquaponics facility. Mr. Laskowsky will also conduct learning classes for volunteers who would like to make their own aquaponics garden.
Thank you once again to Principal Martinson and Mr. Laskowsky for introducing me to the amazing world of aquaponics. Principal Martinson's leadership and guidance and Mr. Laskowsky's knowledge, expertise and gift of teaching bonds with the heart and soul of the Highlands Intermediate aquaponics program which is the students who represent the future of a sustainable, happy, and healthy planet.
Koilapia – How does it taste?
"The meat is so moist and flaky. It's almost like mahi mahi but not as firm. It tastes like sea bass"…Principal Martinson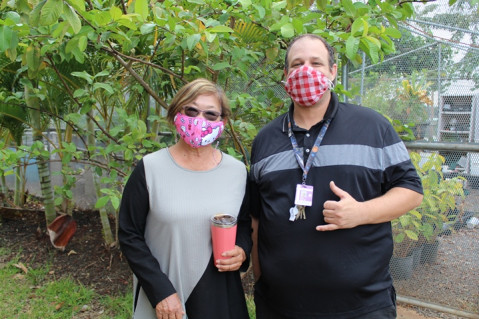 Photo by Barry Villamil | [email protected]
Mahalo to Principal Martinson and Mr. Laskowsky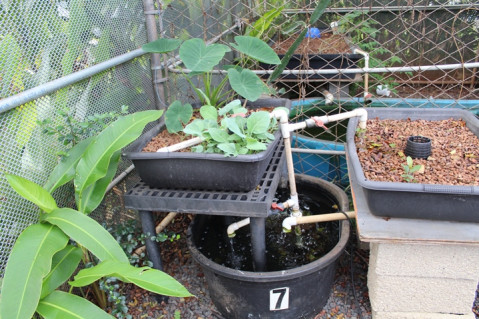 Photo by Barry Villamil | [email protected]
Aquaponics: Hydroponics and Aquaculture science in motion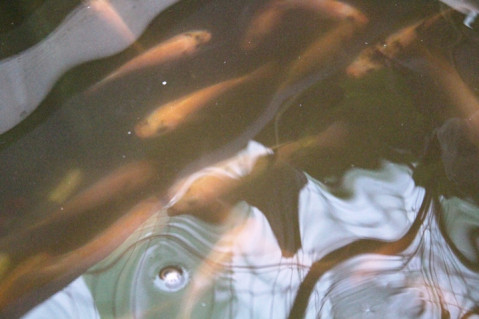 Photo by Barry Villamil | [email protected]
Koilapia pictured thriving in one of the Highlands Intermediate aquaponics ponds.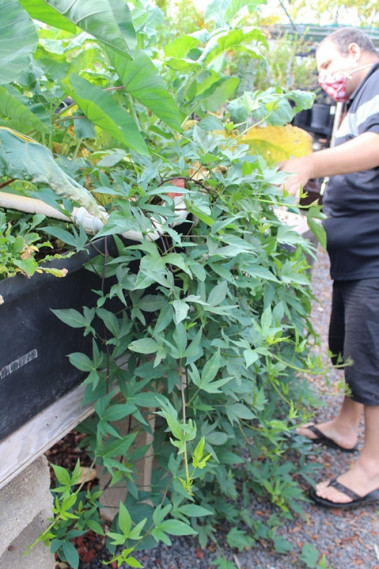 Photo by Barry Villamil | [email protected]
The Highlands sustainable aquaponics garden is filled with many varieties of healthy plants grown by the students that include; ginger, taro, fung choy, radishes, green onions, kale, basil, collard greens, arugula, avocado, sugar cane, sweet potato, guava, lilikoi, and dragon fruit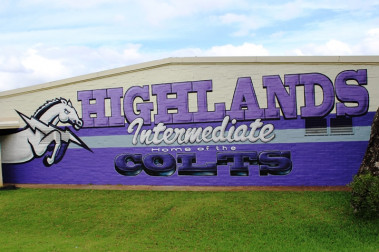 Photo by Barry Villamil | [email protected]