Zippy's is First to Offer Incentive if Downloads of State's Official COVID-19 Exposure Notification App Reaches 450,000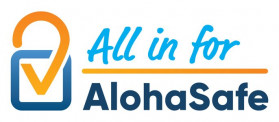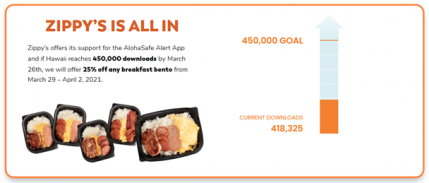 Download the AlohaSafe Alert app — the State of Hawaii's free COVID-19 exposure notification app — and your next stop could be Zippy's.
As part of "All in for AlohaSafe," a promotional campaign to encourage downloads and use of the app, local restaurants and other businesses are joining forces to offer special discounts on food, goods and services as incentives if the community downloads the app.
Zippy's is among the first businesses to join the program. If the app attains 450,000 activations by Friday, March 26, Zippy's will offer 25% off all of its breakfast bentos – now served all day long – for the week of March 29 – April 2. The number of downloads currently stands at 400,000. Zippy's will feature a meter on its website at zippys.com/alohasafe to show a running total of the downloads of the app.
"Encouraging more people to download AlohaSafe Alert is an important way to help our community fight COVID-19," said Paul Yokota, president of FCH Enterprises, the parent company of Zippy's. "The more people who download the app, the more we keep our community safe, especially as we begin to loosen restrictions."
Based on a study by Oxford University, research shows that in the U.K. alone about 284,000- 594,000 infections have been averted with the technology. Further research also shows that for every 1% increase in users of exposure notification apps, the number of COVID-19 cases drops by 1-2%. In Hawaii, we know that hundreds of people have been notified by AlohaSafe Alert, but due to privacy protections, specific numbers of notifications cannot be obtained at this time.
The app continues to be enhanced, and is also now available in Tagalog, Ilocano, Samoan, Marshallese, Chuukese, and Korean.
AlohaSafe Alert is seeking more businesses to join in the All in for AlohaSafe campaign to offer discounts once the next milestone of 500,000 downloads is achieved. Businesses interested in offering incentives should contact Lynelle Marble, Hawaii Executive Collaborative, at (808) 295- 6162.
The app was developed through a public-private partnership with Hawai'i State Department of Health (DOH), aio Digital, and the Hawai'i Executive Collaborative. It is funded by DOH and donations from the private sector.
To download the free app, go to the Google Play or Apple App Store on your phone. For more information visit https://www.alohasafealert.org/.