Mahalo to all the amazing community volunteers who shared their time and hearts this morning to help clean up and beautify the grounds at Sunset Memorial Cemetery in Pearl City.
The cemetery is in desperate need of help and support from the community to maintain the grounds. Early this morning, teams of volunteer s came through with chores that included mowing the grass and weed whacking around the graves, raking up cut grass, trimming back trees, pulling weeds, and clearing out a huge mound of bags of rubbish and trash that had accumulated on the property that was loaded on to Honolulu City & County trucks by volunteers for disposal.
I was honored to represent the Pearl City Shopping Center/MyPearlCity.com and the Pearl City Lions Club as a community volunteer. I was touched by the names of the departed souls on each grave head stone as I cleared away weeds and overgrown grass that revealed their names and lifespans.
It was a heart-warming feeling to know that their spirits were with me and happy for the many gestures of kindness and respect that was flowing throughout the cemetery from each volunteer. Keiki to Kupuna all lended a hand this morning.
As I left Sunset Memorial Cemetery, I thought of the smiles from family and friends on their next visit to place flowers on the graves of loved ones.
Blessings upon their souls and the spirit of giving and compassion from all our community volunteers.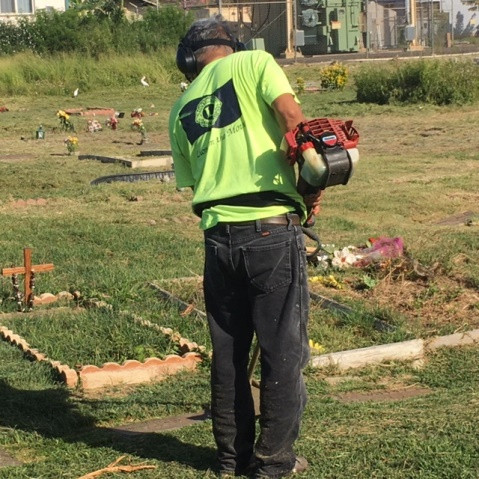 Photo by Barry Villamil | [email protected]