PEARL CITY CHARGERS
2021 BOYS VARSITY VOLLEYBALL SCHEDULE

| | | | | |
| --- | --- | --- | --- | --- |
| updated 4/5/21 | | | | |
| DATE | DAY | LOCATION | OPPONENT | TIME |
| 4/17/2021 | Saturday | Home | Mini Tourney | 9am-12noon |
| 4/20/2021 | Tuesday | Away | Waianae HS | 5:00 PM |
| 4/22/2021 | Thursday | Home (OC 16) | Radford HS | 6:30 PM |
| 4/27/2021 | Tuesday | Away | Aiea HS | 5:00 PM |
| 4/29/2021 | Thursday | Home | Leilehua HS | 5:00 PM |
| 5/4/2021 | Tuesday | Away | Waipahu HS | 5:00 PM |
| 5/6/2021 | Thursday | Home | Waialua HS | 5:00 PM |
| 5/11/2021 | Tuesday | Away | Nanakuli HS | 5:00 PM |
| 5/13/2021 | Thursday | Home | Campbell HS | 5:00 PM |
GO CHARGERS!
SENIOR CHARGERS CLASS OF 2021
#3 CONNER PUCHERT
#7 DAMON CLARK
#10 JACOB KAMANAO-BULOSAN
#15 LE NAEA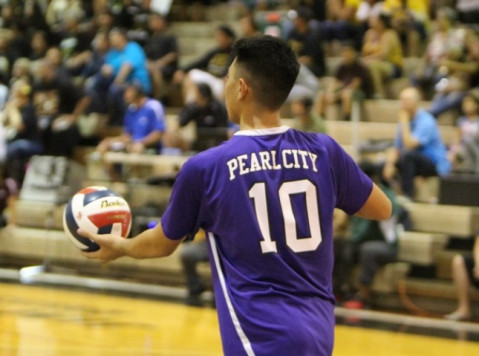 MyPearlCity.com File Photo | [email protected]
Super Senior Jacob Kamanao-Bulosan will lead the Chargers as they open play this Saturday in a mini tournament at Pearl City High School. Jacob is pictured at the service line during the Chargers 2019 OIA Division 2 Championship win over the Nanakuli Golden Hawks. Jacob had an amazing championship title win performance scoring 18 kills with 2 aces.
PEARL CITY BOYS VARSITY VOLLEYBALL

2021