Stephanie Hung with her new Triptych style mural
Pearl City, Hawaii, June 9, 2021 – In Recognition of World Oceans Month, Artists Save Waves founder and ARTivist, Stephanie Hung, unveiled her latest artwork mural in collaboration with Sustainable Coastlines Hawai'i at Hickam Federal Credit Union's Main Branch at 1260 Kuala Street in Pearl City on Monday, June 7, 2021.
The unveiling of the triptych mural entitled "See the Light" was painted in hope of raising awareness about saving and protecting Hawai'i's ocean and land environment. Stephanie Hung, a recent graduate of Punahou School said, "it is my hope that the mural will serve as a constant reminder to all that see or learn about it that we all need to see the light and live with determination to help protect our islands and precious environment. The old diver in the mural sheds a beam of light onto the way things used to look and we need to be mindful that we cannot continue to pollute and trash our home. Lets' all take care and See the Light together."
The unveiling also coincided with the launch of Hickam FCU's "Cards with a Cause" campaign. The campaign includes the rollout of 5 new credit card/debit card designs created by Hung and supports the mission of Artists Save Waves and Sustainable Coastlines Hawai'i. "We found the partnership to be a perfect match that aligns with our values," said Scott Kaulukukui, Hickam FCU President/CEO. "Our new credit card program provides our members with a great looking card that is one of the most high-tech cards available – plus, it supports a cause for a place we all live in – our Hawai'i!"
With the brand-new credit card program and the launch of their "Cards with a Cause" campaign, Hickam FCU continues to live by their core values of Caring, Integrity, and Commitment and the unwavering mission to serve their members and care for the community.
All of Hickam FCU's new cards support contactless transactions for enhanced fraud protection. Along with the new features that benefit the cards' users, there are also features that benefit our Islands. With this eco-cause partnership, throughout 2021, whenever you use your card, Hickam FCU will make a donation to Stephanie's non-profit organization, Artists Save Waves.
In return, Artists Save Waves will gift a donation to Sustainable Coastlines Hawai'i, allowing them to continue their work to protect and preserve Hawai'i's oceans. Rafael Bergstrom, Executive Director of Sustainable Coastlines Hawai'i said, "we truly value this partnership with Stephanie and what this young, talented and inspirational person is doing to contribute to helping Hawai'I protect our environment. That is what we are all about. Thanks to the commitment between Stephanie and Hickam FCU, we know this will help Sustainable Coastlines continue to prosper to do our work in the community. We knew Hickam FCU was serious about this partnership when they came out to help us clean the beaches too. This is a great partnership. We support Cards with a Cause."
Scott Kaulukukui said, "We are committed to taking care of our island beaches, shorelines and sea life, and with this initiative we are empowered by the opportunity to give back and do something to help the sustainability of our people and our island home. We also thank so many that have been involved in bringing this amazing project to fruition. Stephanie's family has been very supportive on everything we have worked on together. For the "See the Light" mural unveiling plan we were fortunate to have help along the way from Brilhante Picture Framing, Artist Thomas Deir acting as a mentor to the team, and Chromaco that has helped with hanging the mural and also with the plans to sell and donate prints of "See the Light" to continue to raise awareness and funds to support the charity."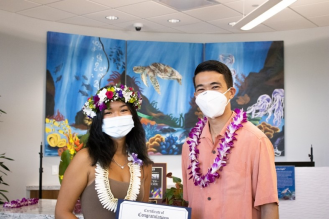 Stephanie Hung & Councilmember Brandon Elefante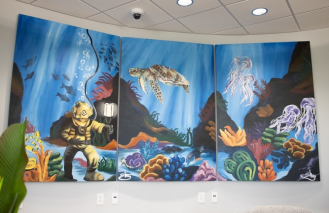 Image of "See the Light" triptych style mural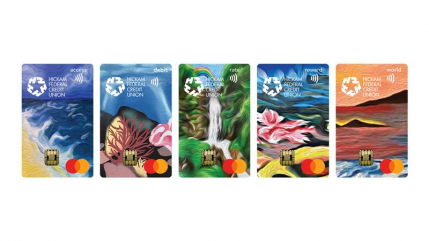 Hickam Federal Credit Union image of (5) Debit/Credit "Cards with a Cause"
ABOUT
Hickam Federal Credit Union
Established in 1936, Hickam Federal Credit Union is a community credit union whose field of
membership is open to anyone who lives, works, worships, or attends school on the island of Oahu. The credit union serves over 49,000 members and has seven branches located throughout East Honolulu, Central, Leeward, and Windward Oahu. Convenient access is available through online and mobile banking; over 300 local ATMs; and more than 5,600 shared branch locations and 30,000 ATMs nationwide. Visit www.hickamfcu.org and learn more about its services and how to become a member.
Artists Save Waves
Artists Save Waves was created in 2019 as a 501c3 not-for-profit organization, that supports using the arts to educate, raise awareness and funds to help save the oceans, its sea-life and the environment as a whole. The entity was established by Stephanie Hung a 2021 graduate of Punahou School, with her friends and family; and is supported by its board of directors to steer the vision of Stephanie Hung to grow the entity and provide as much support as possible for other non-profit / charitable organizations that serve the environment with the primary intended benefactor being Sustainable Coastlines Hawaii.
Sustainable Coastlines Hawai'i
Sustainable Coastlines Hawai'i started in 2010 with 8 friends sitting around a table in a small house in Kaimuki. Inspired by our good friends Sustainable Coastlines in New Zealand, we decided to take keeping our beaches clean into our own hands while making the work fun. What we've learned along the way is that cleanups can only do so much. We now utilize our cleanups to inspire better consumer behaviors and continued coastal stewardship through cleanups, education, social media, and more. We are run by a small full-time staff and a large team of dedicated volunteers. Want to get involved in our core team? Show up at our next cleanup, introduce yourselves and show the extra effort. We're always looking to grow our team.
Story and photos provided by h&bmarketing