The Pearl City Chargers are excited to get back on the football field after missing the 2020 season due to the COVID-19 pandemic that shut down high school sports in Hawaii.
Football was alive and in the air yesterday as I made a visit to the Pearl City High School campus to check out conditioning practice on the Charger turf at Edwin Bino Neves Stadium. I also got a chance to sit down with Chargers Varsity Head Football Coach Robin Kami and Junior Varsity Head Football Coach Robin Puahala.
Both Kami and Puahala are ready to turn it a notch as conditioning practice will soon advance to full contact practice and regular season play which is 40+ days away. At this stage of conditioning practice, both coaches are concerned with the low turnout numbers so far, but are encouraged with every day as players slowly come out to join the Chargers football program. At this point, they are on a mission to get the word out to the community that there will be football seasons for both junior varsity and varsity in 2021.
Robin Kami, Charger Varsity Football Head Coach
"We've been practicing for the last three or four weeks and it's been really good, everyone is excited. We started off slowly. The first week we went at 50% conditioning, 60% the next week, 70% the third week. We go up 10% each week. The kids are excited to be out here getting in some fresh air. It's great to see the coaches out here teaching and coaching once again with whistles blowing and kids running around.
With every day the kids are coming out, two to three players at a time. I think everybody realized that we're having a football season this year, jv and varsity. We're going to have a season. Slowly but surely everybody is coming out. Hopefully we can hit on numbers of 45 players for jv and varsity.
Robin Puahala, Charger Junior Varsity Football Head Coach
"We're trying to get as many kids as we can to come out and try out. We're a little bit behind right now because of COVID. A lot of teams are practicing outside and we're trying to get the word to them that the high school is now open. Football is open so they can transfer up here now and get to work out here on this field for our season which actually starts in 40 more practices. We're on a tight schedule. We got about half of what we need and if we get another half more we'll be able to have a good season."
This season, the Chargers junior varsity football program are the 2X defending OIA Champions winning championships in 2018 and 2019.
Come out and support our CHARGERS in 2021!
CHARGER PRIDE! GO CHARGERS!
Contact information:
Varsity Head Coach Robin Kami
Junior Varsity Head Coach Robin Puahala
Photo by Barry Villamil | [email protected]
Pictured L-R: Robin Kami, Charger Varsity Football Head Coach,
Cajo Cabato, Charger Varsity Football Defensive Coordinator,
and Robin Puahala, Charger Junior Varsity Football Head Coach.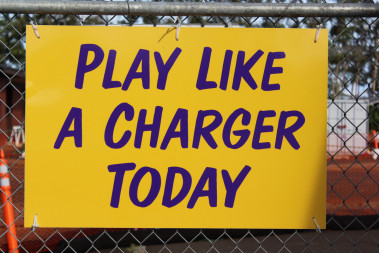 Photo by Barry Villamil | [email protected]