I would like to share some pretty cool photos of Highlands Intermediate School Student Activities Coordinator Eric White and a group of his Student Council leaders as they created a work of art on Friday using purple and white, special designed cups to spell out the school mascot name, "COLTS". The students installed the cups on fencing near the school entrance and administration building on Hoolaulea Street.
Rotary of Club of Pearlridge (RCOP) President Dick Mosko and I had just completed a planning meeting with Mr. White for the newly certified RCOP Highlands Intermediate Junior Interact Club and was invited to meet the students council leaders as they worked on their spirit filled, school pride project.
We are so excited and proud to support and sponsor the Highlands Intermediate leadership students through the Internet program of Rotary International.
Have a great weekend!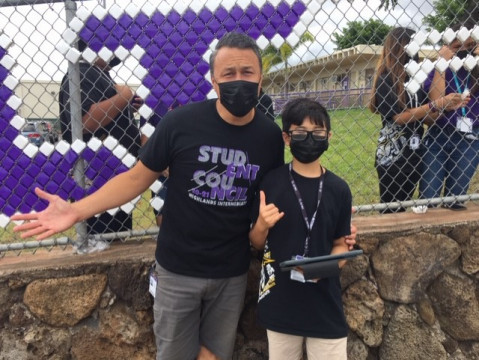 Pictured: (L-R) Eric and Lawson White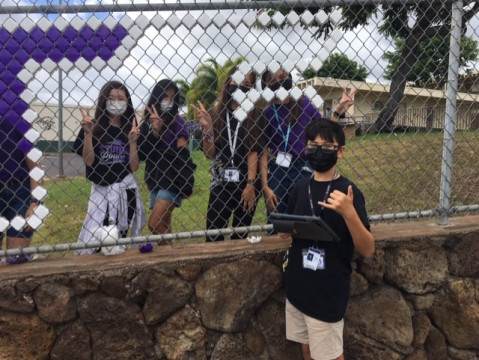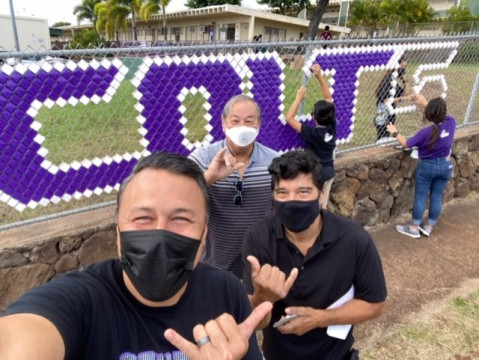 Pictured: (L-R) Highlands Intermediate Student Activities Coordinator Eric White,
Rotary Club of Pearlridge President Dick Mosko, and Rotary Club of Pearlridge
Interact Program Chair Barry Villamil