I had a great time this morning hanging out with volunteers from the Mana Loa-Nimitz Lions Club, Representative Gregg Takayama (Pearl City Lions Club), Senator Sam Kong (Mana Loa-Nimitz Lions Club), and other community volunteers who joined together for the annual Lions Eye Glass Cleaning Project held this year at the Momilani Community Center in Pearl City.
Volunteers led by Mana Loa-Nimitz Lions Club President Dexter Aoki worked in teams to wash, rinse, dry, sort and pack thousands of recycled eye glasses that will be sent to the Philippines for those in need. The recycled eye glasses were collected from donation drop-off boxes in Pearl City over the course of one year.
Mahalo to our generous community for their eyeglass donations. Every donation is truly appreciated and will help thousands in the Philippines receive the gift of proper vision through the Lions humanitarian efforts.
Also, mahalo to the Mana Loa-Nimitz Lions Club for the ono snacks, drinks and bento's that kept all the volunteers well-nourished and hydrated throughout the morning.
Have a wonderful weekend!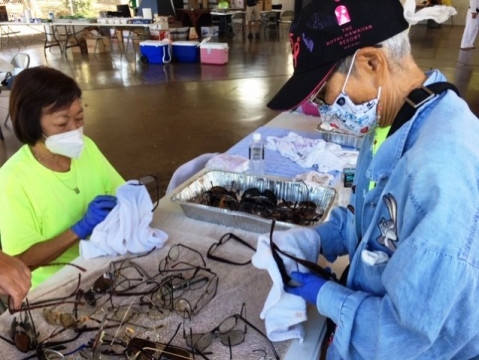 Photo by Barry Villamil | barry@mypearlcity.com
Mana Loa-Nimitz Lions Club community volunteers Muriel Masumura (L)
and Mary Takeshita (R) are pictured hand drying freshly washed and rinsed
recycled eyeglasses before they made their way to the sorting and packing station.