Thank you so much to the wonderful Pearl City High School alumni representing the proud Class of 1974 who generously donated their time, resources, funds, and organizational skills to lead Saturday's successful Purple Tree Planting Project on the school campus.
Five crepe myrtle trees were planted by PCHS alumni, former teachers and administrators, as well as current PCHS students, staff, and community volunteers on campus in celebration of the school's 50th Anniversary. Each tree represents the 5 different decades.
Two trees were planted to frame the A and B building walkway and the other three trees were planted behind C building overlooking Edwin Bino Neves Stadium, Pearl City community, and historic Pearl Harbor.
Mary Alejado Sensui PCHS '74, Purple Tree Project Chairperson
"The whole idea of planting a purple tree came many years ago when I saw on Maui, in Lahainaluna, this big hill on the side of the mountain that I thought marked the territory. So I thought, what can Pearl City do? Maybe we can paint our buildings purple? No, that's too tacky. So I guess we saw some jacaranda trees and thought oh my gosh, that's so beautiful.
What we originally intended to do was plant jacaranda trees, but apparently they're not as hearty as crepe myrtles. We formalized plans to get five crepe myrtles, one tree for each decade of the school's existence. That's why we are here today, to start something that will become a visual landmark for years to come."
Lynn Takeshita Tanaka PCHS '74, Purple Tree Project Committee Member
"We got a lot of good guidance on the project from a lot of alumni. This was a team effort. We talked to Craig Hara who is an alumni landscaper. We are the first graduating class so we want to set the pace for everyone else. Hopefully some other classes will pick up. This is a one-time deal for us anyway. Once the funds are gone, that' it. If we have extra funds we'll probably buy another tree or do something for the school. Each tree is $240.00. Volunteers and donors really came through."
It was so nice to volunteer along with fellow PCHS alumni, as well as teachers, staff, and community volunteers. What made the tree planting project very special on Saturday, was that alumni and former teachers, starting with the first graduating PCHS class of '74, connected with current PCHS students from different school clubs, classes, and current teachers, faculty, and administrators to make history together with the planting of the purple trees that will thrive while recognizing our Charger Pride and legacies for generations to come.
Mahalo to the Class of '74 alumni; Mary Alejado Sensui, Dean Sensui, Lynn Takeshita Tanaka, Jonathan Maligro, and Mitchell Pavao for all their hard work, dedication and ongoing support for our PCHS ohana.
Also mahalo to; Pat Beter '75, Gordon Arakaki '76, Kyle Miyashiro '91, retired PCHS teachers Joanne Ing, Calvin and Sherry Abe, and Principal Joseph Halfmann for their support and help today.
Mahalo to the awesome PCHS students and their teachers representing the PCHS Robotics Team, Leo Club, and other clubs that volunteered their time Saturday morning to beautify their school.
Mahalo to PCHS alumni and '74 classmates Mitchell Pavao and Dean Sensui for providing planting tools and equipment.
I sincerely apologize if I left anyone out. You are truly appreciated.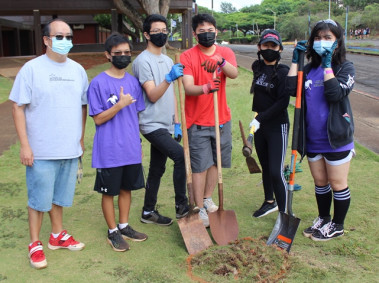 Photo by Barry Villamil | barry@mypearlcity.com
Mahalo to all the PCHS students and their teachers who helped plant
5 crepe myrtle trees on Saturday. Mr. Hai Nguyen is pictured with
students from his award winning Robotics team fronting A/B buildings.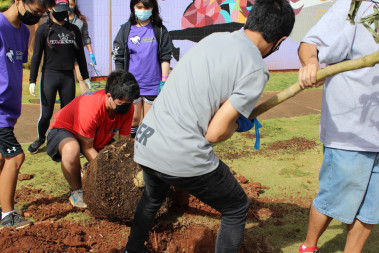 Photo by Barry Villamil | barry@mypearlcity.com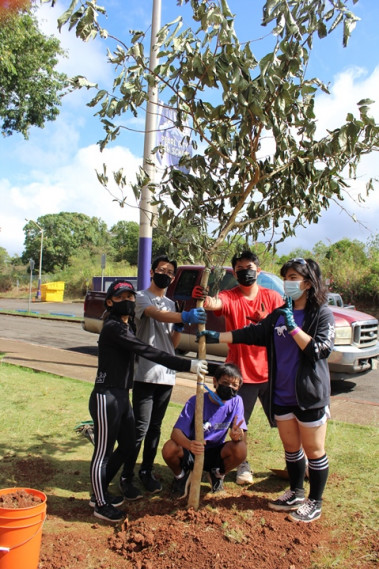 Photo by Barry Villamil | barry@mypearlcity.com
More Coverage:
Photo Gallery 1
http://www.mypearlcity.com/photos/education/pchs-purple-tree-project-rooting-50-years-charger-pride-and-beyond-1092021
Photo Gallery 2
http://www.mypearlcity.com/photos/education/pchs-purple-tree-project-rooting-50-years-charger-pride-and-beyond-1092021-group2
Related Stories
Pearl City High School's Purple Tree Project unearths decades old Purple Passion
http://www.mypearlcity.com/story/education/pearl-city-high-school%E2%80%99s-purple-tree-project-unearths-decades-old-purple-passion
Earth baked rock brownies turn up at Pearl City High School's Purple Tree Planting Project
http://www.mypearlcity.com/story/education/earth-baked-rock-brownies-turn-pearl-city-high-school%E2%80%99s-purple-tree-planting-project