The annual fundraiser for Special Olympics Hawaii will take place November 19-21, at participating shopping centers across Oahu
HONOLULU (November 9, 2021) — Dozens of volunteer, off-duty local law enforcement officers are busy getting ready to rise to the challenge for this year's 19th Annual Cop on Top fundraiser. Volunteer officers will elevate their duties while perched on top of 10-foot scaffolds at various locations November 19-21, 2021 on Oahu and November 18-19, 2021 at the Molokai Public Library. Community volunteers will support the officers and collect donations on the ground.
"We feel incredibly thankful to be able to host our Cop on Top event after two years of cancelled in-person events," said Special Olympics Hawaii's President and CEO, Dan Epstein. "This event would not be possible without the unwavering support we receive from the participating shopping centers, volunteer, off-duty law enforcement officers and community volunteers who remain committed to raising awareness and funds for our athletes."
Below is a list of confirmed Cop on Top locations on Oahu:
● Enchanted Lake Center
● Hawaii Kai Shopping Center
● Kaneohe Bay Shopping Center
● Kapahulu Shopping Center
● Laulani Village Shopping Center
● Manoa Marketplace
● Salt Lake Shopping Center
● Sam's Club Pearl City
● Waimalu Plaza
"I have supported Cop on Top for the last 21 years and have had the opportunity to meet the most inspiring individuals — from the athletes and families who come out and show their support, to shoppers who open their wallets and hearts," said Honolulu Police Department's Acting Deputy Chief, Ryan Nishibun. "As officers, we are grateful to have the opportunity to support Special Olympics Hawaii and we hope you all will join us in rising to the occasion!"
Donations collected from Cop on Top directly benefit Special Olympics Hawaii and their efforts to provide sports, health and wellness programs for children and adults with intellectual disabilities year-round. Since 2001, Cop on Top has raised more than $3,692,506 for Special Olympics Hawaii athletes statewide.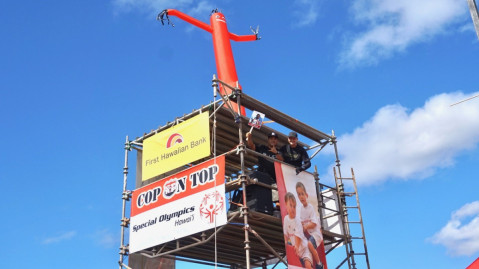 Photo credit Special Olympics Hawaii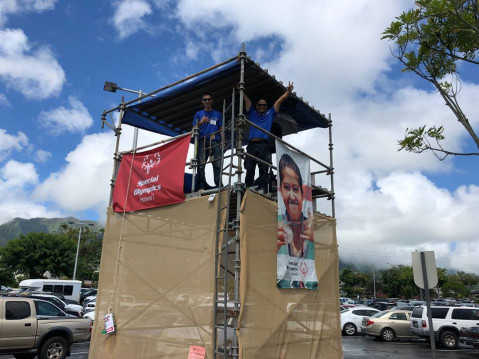 Photo credit Special Olympics Hawaii