I would like to send my heartfelt thanks to everyone who contributed in making yesterday's 2021 Christmas Toy Donation Drive-By an overwhelming success!
Toy Drive partners and organizers Pearl City Shopping Center, Pearl City Foundation, and Pearl City Lions Club are extremely grateful to our generous community and corporate sponsors who came through by donating over 1100 toys and $4500.00 in monetary donations during yesterday's toy drive-by held at the Momilani Community Center in Pearl City.
All toys and monetary donations went directly to benefit the Marine Corps Toys For Tots Oahu program. It was quite an honor to volunteer side by side with the Marines who worked hard collecting, packing up, and transporting over 27 large Toys For Tots boxes that housed the 1100 donated toys.
There were so many individuals, Pearl City neighbors, community organizations, and corporate sponsors who came together to help make a Christmas wish come true for a child in need who will receive a special present on Christmas morning.
Thank you to the very generous monetary donations from Hawaiian Electric, Pearl City Shopping Center, area legislators, Mana Loa Lions Club, and Pearl City residents. Also, thank you to the amazing amount of toy donations from Pearl City Complex Schools (Momilai Elementary, Kanoelani Elementary, Palisades Elementary, and Highlands Intermediate), Pearl City Lions Club, Makua Leilani Ohana, Pearl City residents and businesses
Thank you to the Bite Squad for keeping the volunteers nourished with ono manapua snacks throughout the toy donation drive.
I would like also like to say thank you to Aidan, little brother Brady, and mom Stacie for spending the morning volunteering their time to help unload toy donations at curbside. Aidan and Brady love to volunteer their time in the community and are already looking forward to the next volunteer project to participate in.
The next thank you that I would like to extend is to Santa and Mrs. Claus who made a stop yesterday in their very busy schedule this time of year at the Momilani Community Center to wish a Merry Christmas and Happy Holidays to everyone. Santa's larger than life presence and energy inspired neighbors to come on by and make a donation.
Saturday's 2021 Christmas Toy Donation Drive-By was a life changing event for me as I realized that there are so many people in our community, as well as visitors to our community who came to the Momilani Community Center to make a donation from their hearts so that our keiki will feel the love from those that care about them in the community.
Each donation received on Saturday was delivered with a smile which will make its way upon the faces of each keiki as they open and embrace their Christmas gifts beaming with the smiles of true happiness.
Thank you to Pearl City Foundation Program Director and 2021 Christmas Toy Donation Drive-By Co-Chair Naomi Tully Ungacta who put her heart and soul into making the event a wonderful success. Thank you for the opportunity to work together as co-chairs on this event while serving our Pearl City community.
Merry Christmas and Happy Holidays to all!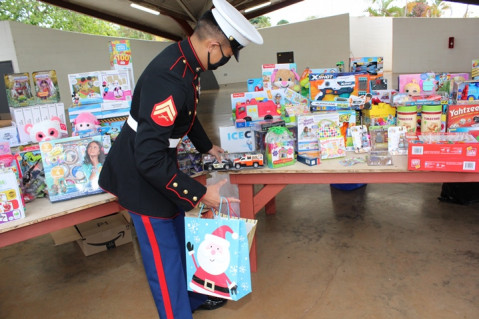 Photo by Barry Villamil | [email protected]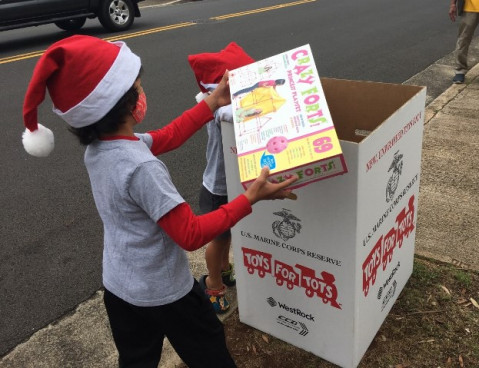 Photo by Barry Villamil | [email protected]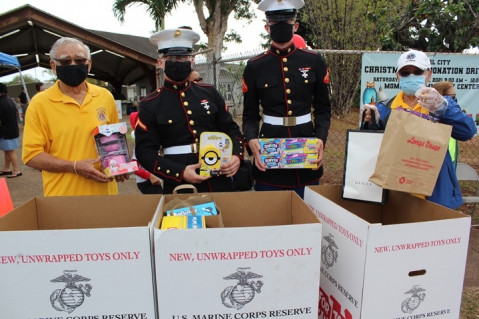 Photo by Barry Villamil | [email protected]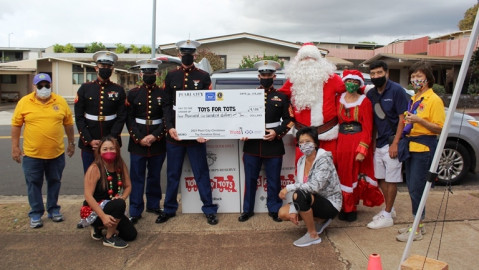 Photo by Barry Villamil | [email protected]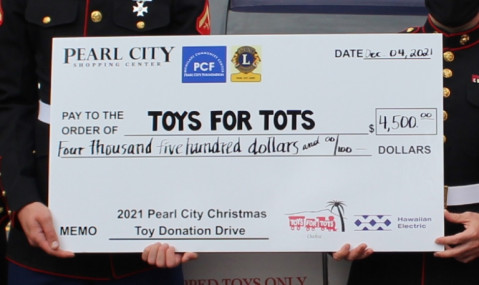 Photo by Barry Villamil | [email protected]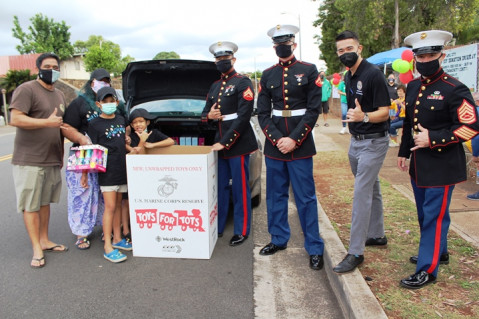 Photo by Barry Villamil | [email protected]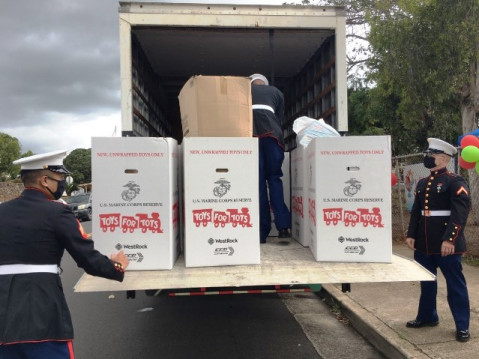 Photo by Barry Villamil | [email protected]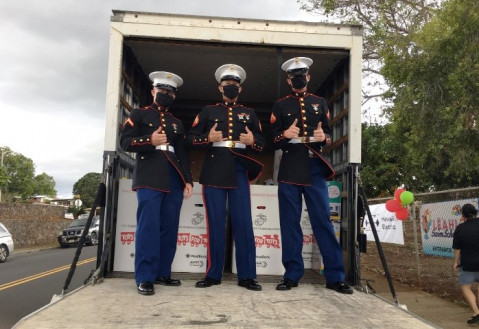 Photo by Barry Villamil | [email protected]