Mililani shut down and shut out Pearl City 4-0 in the semifinals of the OIA DI Girls Varsity Soccer Championship Playoffs last night at Kapolei High School to earn a shot at the OIA championship on Saturday against Campbell. The Campbell Lady Sabers defeated OIA East Champion Moanalua in a tough battle with the Lady Menehune 2-1 in OT in the second game of last night's semifinals doubleheader played at Kapolei.
Mililani's Mari Ige scored two goals for the Lady Trojans while teammates Tauiai Fuamatu-Maafala and Kailee Wilson both scored a goal apiece.
The Lady Chargers will play Moanalua for third place in the OIA tourney Friday night at Waipahu High School. Kick-off is set for 7:15pm. Kaiser and Waipahu will play for fifth place at 5:30pm.
Mililani, Campbell, Pearl City, Moanalua, Kaiser, and Waipahu have all qualified for the HHSAA State DI Soccer Championships that begins with the first round on February 21, 2022.
The OIA DI Championship game between Mililani and Campbell will follow the OIA DII Championship title game between Leilehua and Kalaheo that kicks off at 5:00pm at Kapolei High School.
Mililani is the defending OIA DI Girls Varsity Soccer Champions that the Lady Trojans won in 2020. There was no championship tournament played in 2021 due to Covid-19 pandemic restrictions.
GO LADY CHARGRS!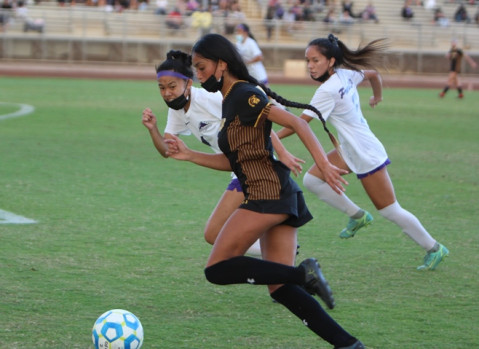 Photo by Barry Villamil | [email protected]
Lady Trojans sophomore Tevena Oliveira moves the ball along the
sideline towards the goal in the first half against the Lady Chargers.