he Campbell Sabers defeated the Pearl City Chargers 3-2 to capture the Oahu Interscholastic Association Junior Varsity Baseball Championship yesterday afternoon at Mililani High School.
Campbell ace Hunter Lindsey went to the distance to earn the Sabers championship win allowing 2 runs on 5 hits with 3 strikeouts and 1 walk in 7 innings.
Pearl City's Jayden Mizuno took the loss for the Chargers allowing 3 runs on 2 hits with 4 strikeouts and 1 walk. Mizuno also batted 1-3 for the Chargers. Jordan Vierra led the Chargers at the plate hitting 2-3 with a run scored.
The Chargers took a 1-0 lead in the top of the second inning on a RBI sac fly to deep right field by Tyler Nishimura that scored Noah Kia from third base.
The Sabers put together a three-run rally in the bottom of fourth inning to take a 3-1 lead.
In the top of the seventh inning the Chargers scored one run to pull within a run at 3-2 but came up short leaving two runners on base to end the game.
Congratulations to OIA Champion Campbell Sabers!
@ Mililani H.S. 1 2 3 4 5 6 7 R H E
Pearl City 0 1 0 0 0 0 1 2 5 0
Campbell 0 0 0 3 0 0 — 3 2 2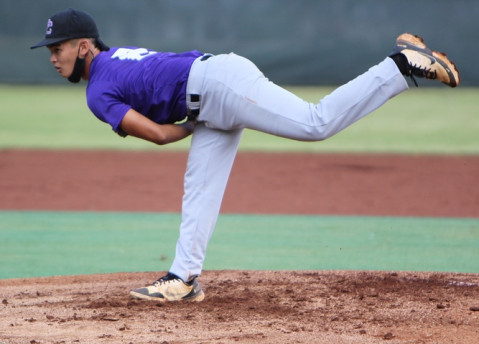 Photo by Barry Villamil | [email protected]
Pearl City starter Jayden Mizuno held Campbell to 2 hits
in 6 innings of work in the Chargers 3-2 loss to the Sabers.