Pearl City bats pounded out 15 hits to beat Kapolei 15-4 in the Oahu Interscholastic Association Western Division season opener played at Kapolei High School on Saturday.
Pearl City's Devin Hayashi picked up the win for the Chargers in relief of starter Dacoda Ogoto. Ogoto and Hayashi held the Hurricane bats to four hits.
Kapolei ace Matthew Kapololu took the loss in four innings of work for the Hurricanes.
It was an impressive win for Pearl City in the Chargers debut of a talented 2022 line up at the plate led by seniors Tyson Murakami (2-6, HR, 2 RBI, 2 runs scored) Dylan Soto ( 2-4, 2B, RBI, run scored), Mark Moreno ( 3-4, RBI, run scored), Dacoda Ogoto (1-4, 3 RBI, 2 runs scored), Ranson Aquino (1-1) and underclassmen talent led by freshman Logan Honma (2-4, 2B, 2 RBI, 2 runs scored), Ethan Higashionna (2-4, 2 runs scored) and sophomore Jayden Mizuno (1-3, 2 runs scored).
The Chargers scored their first run of the season and ball game on a RBI single by freshman Logan Honma that drove in senior Tyson Murakami from third base to take an early 1-0 lead over the Hurricanes.
Jesiah Chock led the Hurricanes at the plate batting 1-4, HR, RBI, run scored. Chock's bottom of the first inning homerun tied the game at 1-1. Matthew Walsh (1-3, HR, 2 RBI, run scored) blasted a 2 run homerun in the bottom of first inning to give the Hurricanes a 3-1 lead over the Chargers after one complete inning. Other Kapolei contributors at the plate; Kalei Alana (1-3, RBI, run scored) JT Tafisi (1-2).
The Chargers return to league play on Wednesday, March 16 against Aiea at Hans L' Orange Field with first pitch scheduled for 6:30pm.
GO CHARGERS!
@ Kapolei High School
1 2 3 4 5 6 7 R H E
Pearl City (1-0) 1 3 0 0 1 3 7 15 15 2
Kapolei (0-1) 3 0 1 0 0 0 0 4 4 4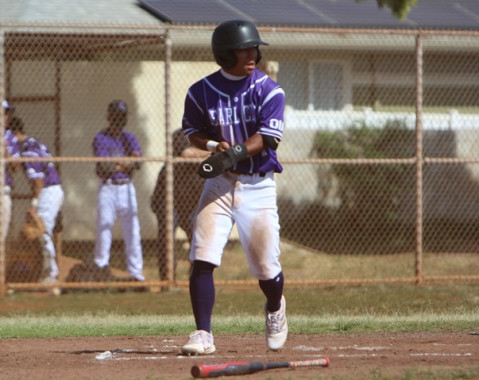 Photo by Barry Villamil | barry@mypearlcity.com
Tyson Murakami scored the first run of the season and ball game for the Chargers on a RBI single from Logan Honma. Murakami also batted 2-6 with a homerun, 2 RBI and 2 runs scored. Honma batted 2-4 with a double, 2 RBI and a 2 runs scored.