The Pearl City Chargers capitalized on a Moanalua Na Menehune bottom of the fourth inning meltdown to plate 9 runs and take a 9-3 lead after four complete innings at yesterday's quarterfinals of the OIA Di Baseball Championship Playoffs played at Pearl City High School.
Eli Oshiro picked up the win for Pearl City pitching 6 innings while allowing 3 runs, 5 hits with 6 strikeouts.
Taven Hathaway took the loss for Moanalua pitching 3 2/3 innings while allowing 8 runs, 6 hits with 3 strikeouts.
In the bottom of the fourth inning, the Chargers took advantage of errors, walks and timely hitting with two outs in the inning to score and shock the Na Menehune who had a three run lead entering the bottom of the fourth after scoring single runs in the top of the second, third, and fourth innings.
Pearl City scored a single run in the bottom of the sixth inning for their final run of the ball game and take a 10-3 lead.
W2 Pearl City moves on to today's semifinal doubleheader at Hans L 'Orange Park in Waipahu against E1 Kalani with first pitch is scheduled for 4:00pm. Kalani shut out Aiea 3-0 yesterday to advance to the semifinals.
E2 Kailua will face W1 Mililani in the semifinal nightcap at 7:00pm. Kailua beat Campbell 11-1 and Mililani defeated Kaiser 8-3 yesterday to reach the semifinals.
Semifinal winners will advance to the championship title game on Saturday at Hans L 'Orange Park with first pitch scheduled for 7:00pm.
GO CHARGERS!
@ Pearl City High School
1 2 3 4 5 6 7 R H E
Moanalua (8-6) 0 1 1 1 0 0 0 3 5 4
Pearl City (9-2) 0 0 0 9 0 1 X 10 9 2
Leading Hitters:
Moanalua – Kaiden Sonada-Fukumoto 1-4; Taven Hathaway 1-4; Connor Dempsey 1-4, run; Nate Alvaro 2-2, RBI, run
Pearl City – Tyson Murakami 2-4, 2 RBI, run; Dacoda Agoto 3-3, 2 RBI, 2 runs; Devin Hayashi 1-3, 2 runs; Logan Honma 1-4, RBI; Jayson Au Hoy 2-2, RBI, run
ELI OSHIRO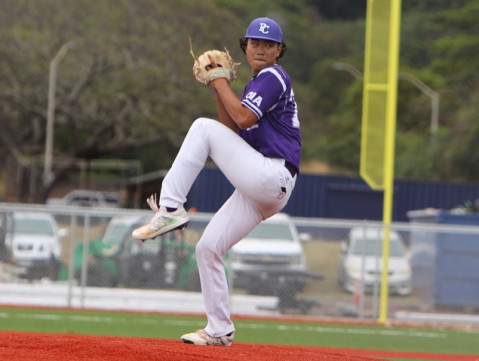 Photo by Barry Villamil | barry@mypearlcity.com
TAVEN HATHAWAY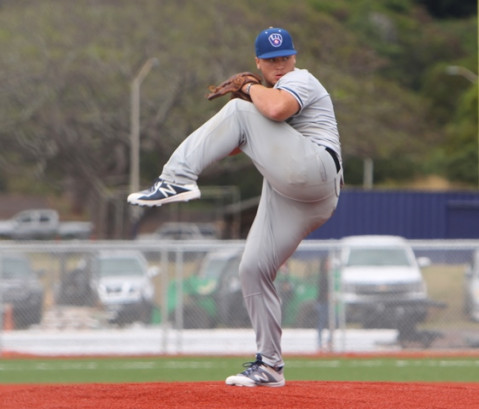 Photo by Barry Villamil | barry@mypearlcity.com
DACODA AGOTO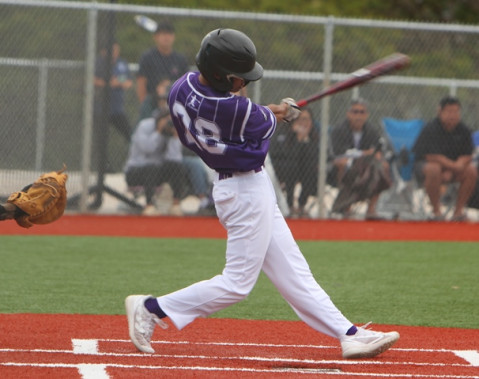 Photo by Barry Villamil | barry@mypearlcity.com