Today we celebrate and congratulate the amazing Pearl City Chargers volleyball who were crowned the 2022 HHSAA State Division II Boys Volleyball Champions after defeating Seabury Hall last night 3-1 at Blaisdell Arena in Honolulu.
The Champion Chargers made history last night by being the first Charger volleyball team (Boys and Girls) to have won a state volleyball championship in 50 years of Charger athletics. The Chargers have gotten close as a runner-up, but never won the championship tit;e.
Last night the Chargers won the championship in fours set over Seabury Hall from Maui 31-29, 22-25, 25-21, 25-22.
Fati Seei-Tofi led the Chargers with 16 kills. Keahi Kaneakua pounded out 15 kills for the Chargers. Christian Ronquilio and had another outstanding post-season performance picking up 36 assists and 19 digs. Tylus (Chargers Energizer Bunny) Williams scored 4 assists and 27 digs.
Seabury Hall's Thomas Russell led all scorers with 22 kills. Teammate Tyler Russell scored 20 kills.
The 2022 history making volleyball season has been a thrill to watch and to be so close to action. The team's success begins with an outstanding coaching staff led by Charger Head Coach Sean Chang and a group of Charger teammates who set out in the beginning in pre-season to work hard and play as one towards the pinnacle of a state championship.
Other key components to the Chargers success of winning both the OIA DII Championship and the HHSAA State DII Championship on 2022 is the excellent care the players receive from the Pearl City High School athletic trainers and athletic training facility, support from the Athletic Department, school administration, and Charger supporters and Ohana.
Here'sa few comments below from the champions as they celebrated their accomplishment and legacy building moment for Charger athletics.
Sean Chang, Pearl City Chargers Boys Volleyball Head Coach
"This is such a satisfying feeling. At the beginning of the season, I guess it was a spoken thing that we wanted to be in this championship game. But in the beginning of the season everybody says that. So for us to be here, for us to actually be in this game is a dream come true.
We knew that coming into tonight's championship game that Seabury set their outside hitters a lot. We also knew that their outside hitters were really good and that if we were going to win, it was either going to be blocking adjustments or defensive adjustments we would have to make. Thankfully we did enough to slow them down for us to win.
I can't say enough good things about Tylus. He's got to be, if not top 5, at least top 3 best Libero in the State. Passing wise he's solid, defensive wise he can scramble. He'll pick up balls that most people will deem un-getable. As far as the team goes, it's more of a mentality. that even though they don't have a chance, they're not giving up, and their teammates are not giving up on them.
I would like to really thank the players. The work they put in, the effort they gave, and the dedication they have is unreal. Thank you to the coaches. I get a lot of credit, but I don't think people see how much work my assistants do and I want to thank them. Also, the athletic training staff that keep our kids healthy and keeps them taped up and all those things. Also thank you to my family for supporting me through it all."
Tiandrew Tiamanap, Charger MB
"This feels unreal, I still can't believe it. The whole season, whenever we won a game it was just on to the next one because the job was never finished. The camaraderie with the team is amazing. It was nothing like the past years. It was something that just amazes me because we're really like a brotherhood. Without our awesome coaching staff it would have been really, really hard to get here, and without them we probably wouldn't have.
I would like to thank my brother, my mom, my dad, my coaches and all of Pearl City High School."
Tylus Williams, Charger Libero

"This is just a surreal moment, I have no words. I'm still on cloud 9. I can't believe all that hard work, and what it was going to take, but now that it has come to this point, I'm just speechless.
In a game, I always tell myself to Illuminate the hitters from the passing line and you know the libero, it's their job to serve tough, it's their job to bring the energy, their job to pick up that first touch. Going into every single game I try to illuminate the hitters from our passing line.
I want to thank all of my coaches for the endless support. My family for the endless support and the Pearl City High School volleyball team.."
Reid Shigemasa, Pearl City High School Athletics Director
"The team deserves this championship especially Coach Sean. He's very humble and calm and he puts a lot of emphasis and something regarding that into his kids where thy just play calm. I would be going nuts. All that energy from Sean being transferred into the athletes and just let the volleyball happen. They wouldn't get affected negatively or more excitedly where it would take effect of their game. Just stay at that one flat plateau and it allowed Seabury to make the mistakes and that's what they did."
CONGRATULATIONS CHARGERS!
PEARL CITY CHARGERS
CHAMPIONS
2022 HHSAA DII STATE BOYS VOLLEYBALL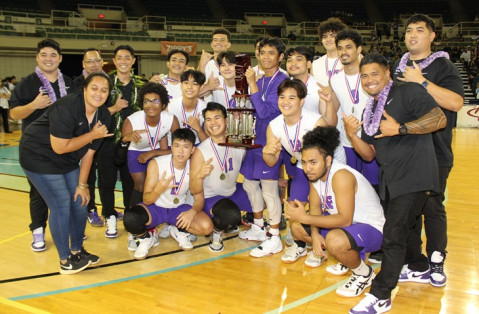 Photo by Barry Villamil | [email protected]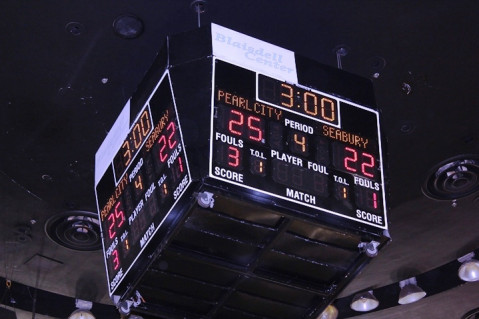 Photo by Barry Villamil | [email protected]
Pearl City Chargers Ohana celebrate
DII Championship win over Seabury Hall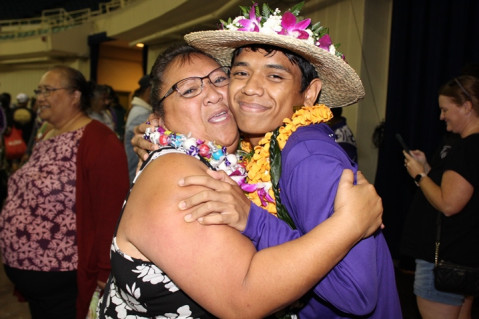 Photo by Barry Villamil | [email protected]
TYLUS WILLIAMS OHANA
Photo by Barry Villamil | [email protected]