Congratulations to all the Pearl City High School Ohana Night scholarship recipients who received their scholarships in a wonderful, Charger Pride – Excellence with Honor ceremony tonight held at a packed Pearl City Cultural Center. It was a very proud moment for the scholarship recipients, as well as for their ohana and PCHS ohana.
A total amount of Scholarships accepted is $2,426,668 for the 2021-2022 school year.
Mahalo
to Governor David Ige (PCHS '75) for presenting his annual Governor David Ige Scholarship Awards to three deserving PCHS students.
2022 Governor David Ige Scholarship recipients are pictured in the cover photo from L-R: Antonio Velasco, Tyler Lee, and Kaydy Ann Gaza (Governor David Ige pictured far right).
Congratulations to 2022 Charger of the Year Award winner Keziah Mae Tuazon.
Mahalo to the PCHS 50th Anniversary Book Committee who presented PCHS with a check for $10,000. The generous donation came from recent PCHS 50th Anniversary Book sales.
Mahalo to the community and corporate supporters of PCHS for their contributions to the future of outstanding PCHS students and their higher educational, vocational, and military service goals.
Congratulations once again to the 2021-2022 PCHS scholarship awards recipients.
GO CHARGERS!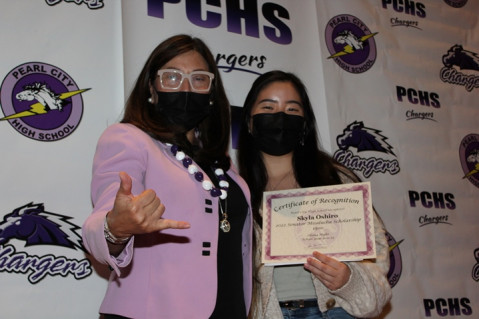 Photo by Barry Villamil | barry@mypearlcity.com
Skyla Oshiro received the 2022 Senator Misalucha $500.00 Scholarship Award.
Skyla also received the following scholarships:
Entrepreneurship Scholarship, $100
University of Portland Grant, $3,330 (Renewable)
University of Portland Pacific Region Success Award, $1,000 (Renewable)
University of Portland Presidential Scholarship, $24,500 (Renewable)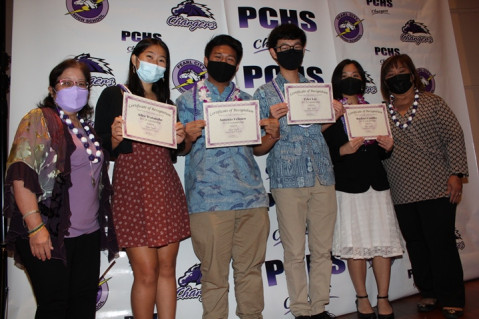 Photo by Barry Villamil | barry@mypearlcity.com
Pearl City Community Association Treasurer Patti Rabacal (far left)
and PCCA Vic President Lynn Ruth (far right) presented their annual
PCCA $1000.00 scholarships each to 5 deserving PCHS students at
Friday's Ohana Night.held at th Pearl City Cultural Center.
2022 PCCA Scholarship Recipients pictured from L-R: Ailee Watanabe,
Antonio Velasco, Tyler Lee and Rachael Castillo. Missing from photo: Alyssa Bautista