Bring your keiki and canines for this dog-friendly, family-focused event.
Fur-Angel Foundation's signature carnival returns in 2022, inviting families and dog-lovers to enjoy a paws-itively awesome celebration of the human-animal bond with fun and educational activities. The 2nd Annual K9 and Keiki Carnival will take place on Saturday, September 24, from 10am – 2pm at Momilani Community Center in Pearl City. Participants will howl with joy as they partake in activities and games for kids and pooches, health and education booths for families, local vendors, food trucks, a bounce house, contests with prizes and much more!
Despite the challenges they have faced in life, rescue dogs continue to demonstrate a desire for companionship, willingness to share their love, loyalty, and trust. This event would not be possible without the help and support from sponsors: Mutual of Omaha Reverse Mortgage (Presenting Sponsor), Da Braddahs, and the Pearl City Foundation. For more information on the event visit www.furangelfoundation.org/carnival.
"We can't wait to paw-ty with all our friends and supporters at the Fur-Angel Foundation K9 and Keiki Carnival. This event celebrates our rescue pups, those that support them, and educates the public on the work we do and how they can get involved," said Tiffany Kim, Fur-Angel Foundation executive director.
At its heart, Fur-Angel Foundation is a rescue operation, which provides hope to dogs of any age and medical history. Through our program, our team works to secure the best possible homes for our dogs, while providing support to families and the community throughout the process. Our education arm focuses its efforts on education and bringing awareness to complex issues that the rescue community faces. We believe that early education creates an essential foundation for future pet guardians and helps to prevent future cases of abuse, abandonment, and neglect.
For each unwanted and abandoned animal there are costs, not only the emotional and physical, but financial as well. If you share a passion for rescue pups, please consider becoming a "Fur-Angel" by joining our foster team, becoming a one-time or monthly donor, volunteering or follow us on social media. Find out more information at www.furangelfoundation.org or sign up for our FAF newsletter and follow us on Facebook & Instagram!
About Fur-Angel Foundation
Fur-Angel Foundation (FAF) is a local non-profit organization located on the island of Oahu, Hawaii. Our mission is to rescue Hawaii's underprivileged dogs and to strengthen the human-animal bond by educating our community about animal welfare. Our goal is to find loving, suitable fur-ever homes for Hawaii's less fortunate dogs. To learn more, visit: www.furangelfoundation.org
Photo Credit: Fur-Angel Foundation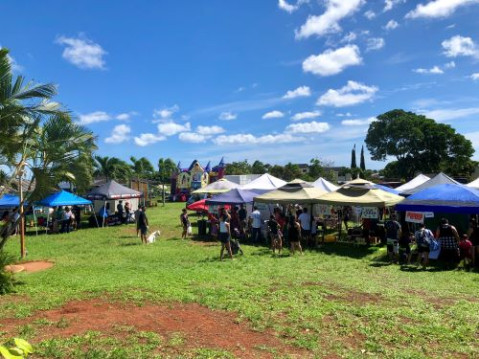 Photo Credit: Fur-Angel Foundation