The Rotary Club of Pearlridge (RCOP) began their annual free Dictionary 5000 project campaign this week that will benefit third graders in12 Pearl City and Aiea elementary schools for the 2022/2023 school year. The RCOP is also happy to welcome over 100 students and their teachers from Kanoelani Elementary School to the Dictionary 5000 project.
At the beginning of each school year, RCOP volunteers team up to visit the 12 Dictionary 5000 schools to present the free dictionaries and introduce them to the Principles of Rotary Internationals Four Way Test and being a Good Citizen.
"Four Way Test"
1. Is it the truth;
2. Is it fair to all concerned,
3. Will it bring good will and better friendships,
4. Will it be beneficial to all concerned.
The RCOP will return at the end of the school year to present two students from each of the 12 elementary schools with Good Citizen Awards which includes a $50.00 check and recognition certificate from the Rotary Club of Pearlridge.
The RCOP Good Citizen Award will be presented to the students who best exemplified the principles of Rotary International's "Four Way Test" throughout the school year. The RCOP Good Citizen Award winner is selected by their teachers.
The free dictionaries are purchased by the Rotary Club of Pearlridge and donated to the third graders and their teachers. The RCOP also provides the funding for the Good Citizen $50.00 check awards.
RCOP Rotarians Rick Lau, Courtney Wagner, and Barry Villamil joined RCOP President Dick Mosko at Tuesday morning's Dictionary 5000 presentation and distribution at Momilani Elementary School. Mahalo to Momilani Elementary School third grade teachers Linda Nakata and Ryan Omine and their students for a very warm welcome and friendly smiles and attitudes throughout our visit to their classrooms.
Service Above Self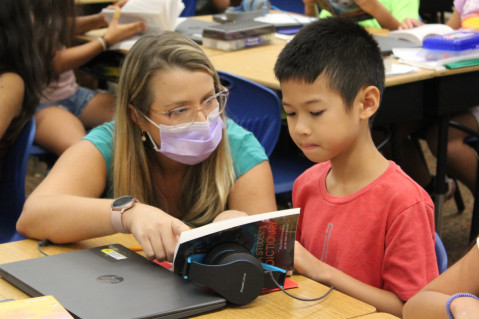 Photo by Barry Villamil | MyPearlCity.com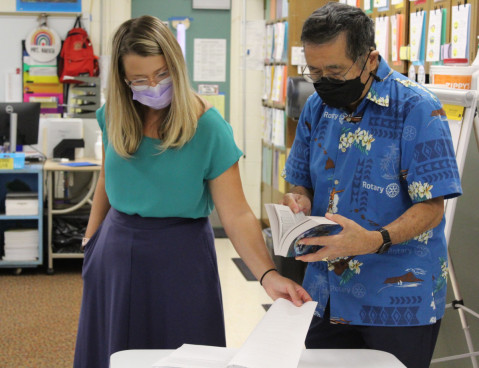 Photo by Barry Villamil | MyPearlCity.com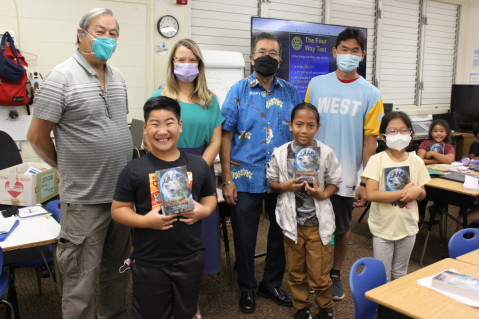 Photo by Barry Villamil | MyPearlCity.com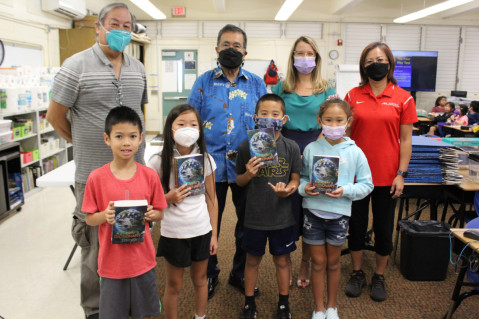 Photo by Barry Villamil | MyPearlCity.com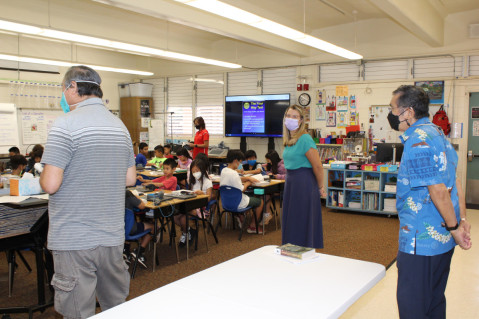 Photo by Barry Villamil | MyPearlCity.com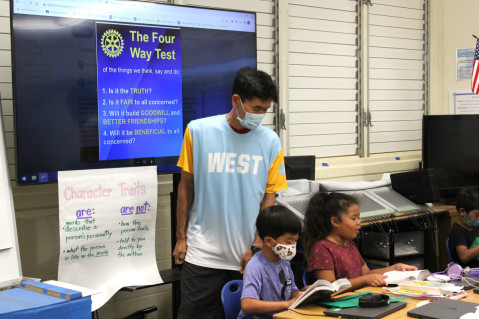 Photo by Barry Villamil | MyPearlCity.com