Congratulations to Pearl City High School College of Career Academies who held a grand opening on Thursday, April 13, 2023 for the new Student Operated Credit Union (SOCU) sponsored by Hawaii USA Federal Credit Union. Students and their teachers from the PCHS Academy of International Business and Design (IBAD) will be in charge of running their school SOCU which is open during lunchtime and offers PCHS students and staff the opportunity to open new accounts. IBAD students not only have an opportunity to learn how to run the SOCU from the professional Hawaii USA management team led by Joanne Ching, Financial Wellness Partner, but are also learning important financial literacy skills that will shape their own financial wellness while building their leadership skills.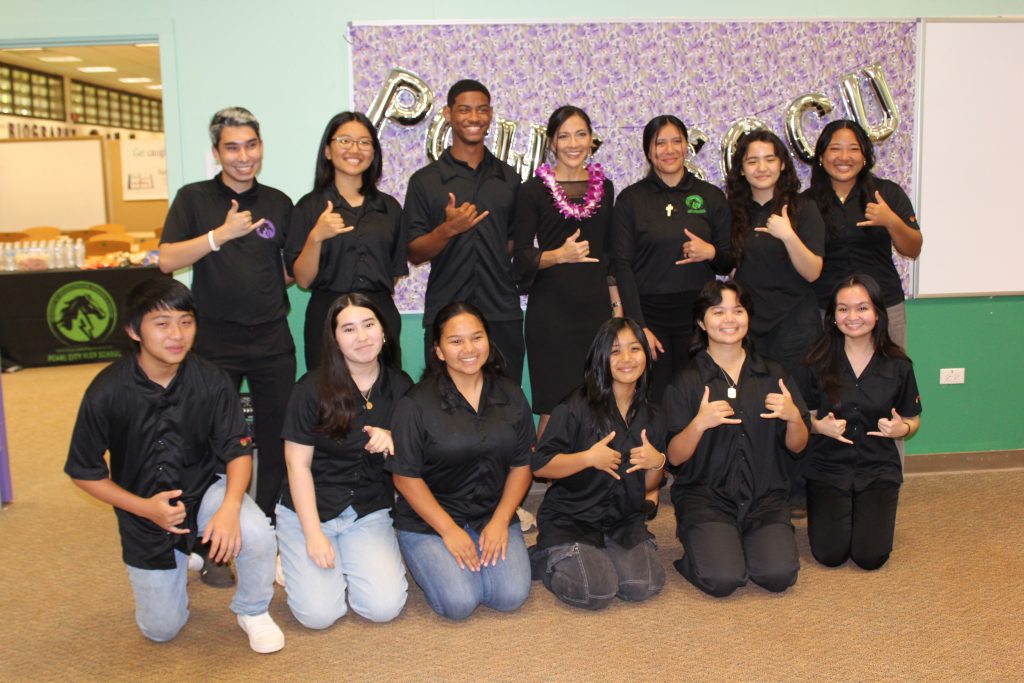 Daphne Okunaga, Pearl City High School College and Career Academies
"Hawaii USA was kind enough to reach out to see if we wanted to work with them about financial literacy for our students and the possibility of opening up a Student Operated Credit Union on our campus came up. We're very thankful to Hawaii USA for offering our students that opportunity. In the Fall, we took a tour of their main branch and their CEO made time to meet with us, and then Ms. Joanne and Mr. Brian came in once a week to work with our management cohort students to train them on how to run the student operated credit union, but also to teach them financial literacy skills so they can work towards their own financial wellness and now we're in the grand opening and it's so exciting!
We want to thank our students for being amazing Chargers. It's really exciting to be at a school where students want to grow and to challenge themselves so that they're ready for anything they choose to do in their future. They were absolutely excited about today's grand opening!"
Joanne Ching, Financial Wellness Partner, Hawaii USA Federal Credit Union
"Hawaii USA works with various schools and Pearl City was on board to create their own Student Operating Credit Unio (SOCU) and we worked with them and that's how it came to fruition. We started from the beginning of the school year although the talks were previous to that. We initially, from the beginning started financial education presentations and then we started training them, and then we were able to open it up this year.
Grand Opening, PCHS and Hawaii USA Partnership
We're working with Daphne Okunaga and the IBAD club. At Pearl City High School, any students or staff qualify for memberships, so they're able to open during lunch time and open up accounts for students and staff. Today's grand opening is an awesome experience for them and to see the students interacting and reading disclosures, doing things that we as adults do, and we at the credit union do. So having them come in and be able to work on their social skills and understand finances and be able share that is great.
Leadership through experience
You see these kids from the beginning being nervous, to having that confidence and learning about finances and being able to share that, not only with the people who come in to the SOCU, but they share it with their classrooms, their teachers, and their family. So, we definitely see leaders and we may be able to hire some of them for internships. The goal is to get them in and get them real life experience so that they can experience it with Hawaii USA."
Mahalo to everyone who worked together to make the PCHS SOCU a success from the very beginning with the planning and partnership building process, mentoring and training the students and their teachers, to the last week's grand opening, and to guiding and building financial wellness and leadership skills for PCHS IBAD Academy students and the positive impact upon their futures beyond the PCHS Academy experience."
GO CHARGERS!