The Rotary Club of Pearlridge (RCOP) is proud and honored to have presented our annual 2023 RCOP Hawaii Rotary Youth Foundation (HRYF) $5000.00 Scholarship award to Punahou School senior and Aiea resident Kaelah Kimura. Kaelah was invited as our RCOP guest speaker on Friday, April 28 during our lunch meeting held at the Pearl Country Club's Grill Room. Kaelah was chosen from dozens of high school seniors who applied for the RCOP HRYF Scholarship Award. RCOP HRYF Scholarship Award committee chair Eric Fujimoto led a group of RCOP board members in the selection process.
Upon graduation from Punahou School, Kaelah will be attending Brown University where she will be studying International and Public Affairs with a focus on Policy and Government with a minor in Environmental Studies. Kaeleh also dreams of one day working in Washington D.C. or the United Nations. She has a passion to make a difference regarding climate change that started while growing up in Aiea and enjoying the outdoors with her family that has built her foundation and appreciation for a clean, fun environment and efforts to improve upon it here in Hawaii and on a global scale.
On Friday, Kaelah was accompanied by her mom Shelee Kimura. She is proud of her daughter and the special connection to the RCOP from when she was in high school and to today as her daughter was recognized as the 2023 RCOP HRYF $5000.00 scholarship recipient.
Shelee Kimura, (Kaelah's mom)
"Kaelah has been busy with her education and studying and even applying for scholarships. Kaelah did this all on her own. It takes a village to raise our kids, and Pearlridge Rotary are now a part of that village, and you know those little things and we really appreciate that investment that you make in our communities and in our children. I remember Rotary when I was in school and you know those little things that you see along the way, and the recognition that students get along the way are really meaningful. I think especially in public schools when you don't get that that often. It gives students that spark to keep trying."
Kaelah Kimura, senior Punahou School, 2023 RCOP HYRF $5000.00 Scholarship Recipient
"Thank you to the Pearlridge Rotary Club for giving me this scholarship so that I can go to Brown and get a good education. I grew up in Aiea and my whole family has lived in Aiea for many, many years starting from plantation days. Growing up I always had a very strongly rooted sense of community. We went to Aiea Loop Trail almost every other weekend. We always had family parties at my uncle's house on Aiea Heights Drive. I think that that foundation gave me a strong sense of responsibility to Aiea and more broadly to Hawaii going forward to give back to the community that already gave me so much. Because not only do I have a strong sense of value in Aiea, but also having that appreciation for the outdoors that I got growing up being around nature all the time.
Where I'm at now, I'm really focused on climate change and policies where I'm hoping to take my studies in the future. I think that really foundational to that passion was the time I spent outside, on the Aiea Loop Trail and at the beach. All those experiences really helped to shape what I'm passionate about. So going forward in high school, I spend a lot of time engaging with the community and dedicating my efforts to try to improve the community around me.
When I go to Brown, I'm going to be studying International and Public Affairs with a focus on Policy and Government with a minor in Environmental Studies So, my goal for that is to be able to help shape the policy that aims to help or mitigate the climate effects over the next decades. Also, mitigating and adapting to those changes. I'm not really sure where I'm going to be living in the future, maybe I'll be in D.C., maybe I'll be at the United Nations, that's one of my big dreams. But no matter where I go, I know that I'm going to path these values I grew up with in Aiea and Hawaii and that I can carry forward, and also put on a more global stage. I think that a lot of nations and places in general get really focused on economics, which is important, and the politics, but I also think that what's important is learning those values and responsibility and kuleana to a place. That brings you back to why what you are doing is important and which has kind of centered me through my 18 years."
Kaelah and her generation are the youth leaders of today, and the future educated leaders of tomorrow's clean energy environmental goals that Hawaii aspires to reach by 2045. Her generation, through reaching their higher education goals and experience's, will put forward their leadership skills, clean energy innovation, discovery, and creativity via their roles as Policy & Government decision makers, Government & Community Leaders, Educators, Clean Energy & Environmental R&D, etc.. Kaelah's generation will be well into their careers and prepared to lead the total transition to clean energy that they have designed, developed, and implemented by 2045.
Mahalo to RCOP President Dick Mosko for his exceptional leadership and to Eric Fujimoto for his continued leadership, along with the 2023 RCOP HRYF Scholarship committee for choosing another outstanding applicant from the Aiea Community. Eric is an award winning financial advisor and a proud graduate of Pearl City High School and the RCOP sponsored Pearl City High School Rotary Interact Youth Leadership Program.
Good luck Kaelah!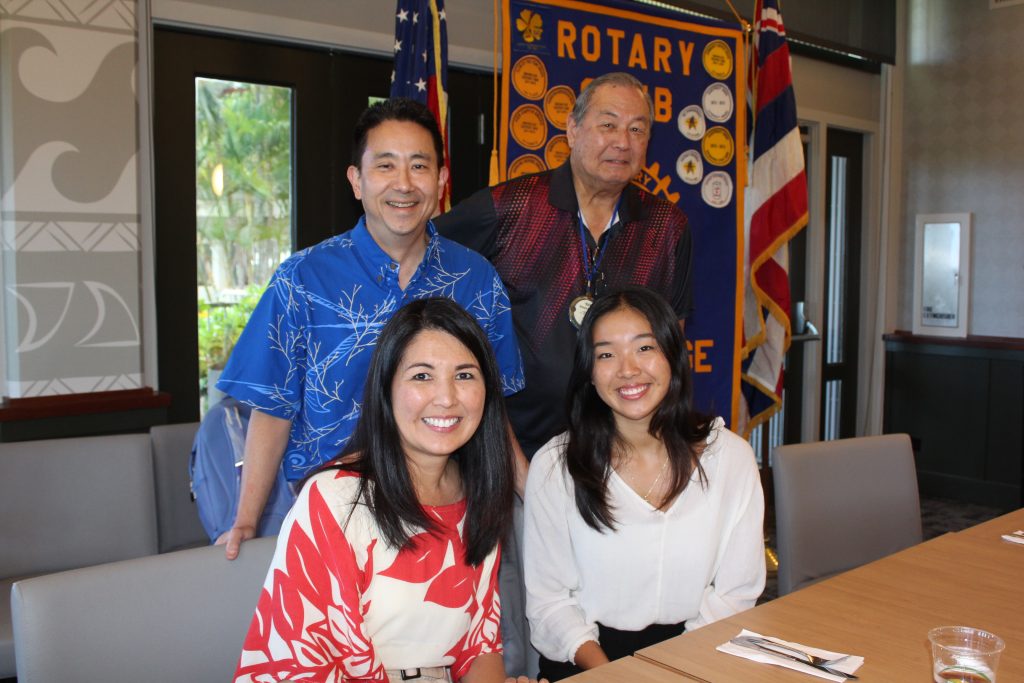 Pictured: Top row (L-R) Eric Fujimoto and Dick Mosko – Bottom row (L-R) Shelee Kimura and Kaelah Kimura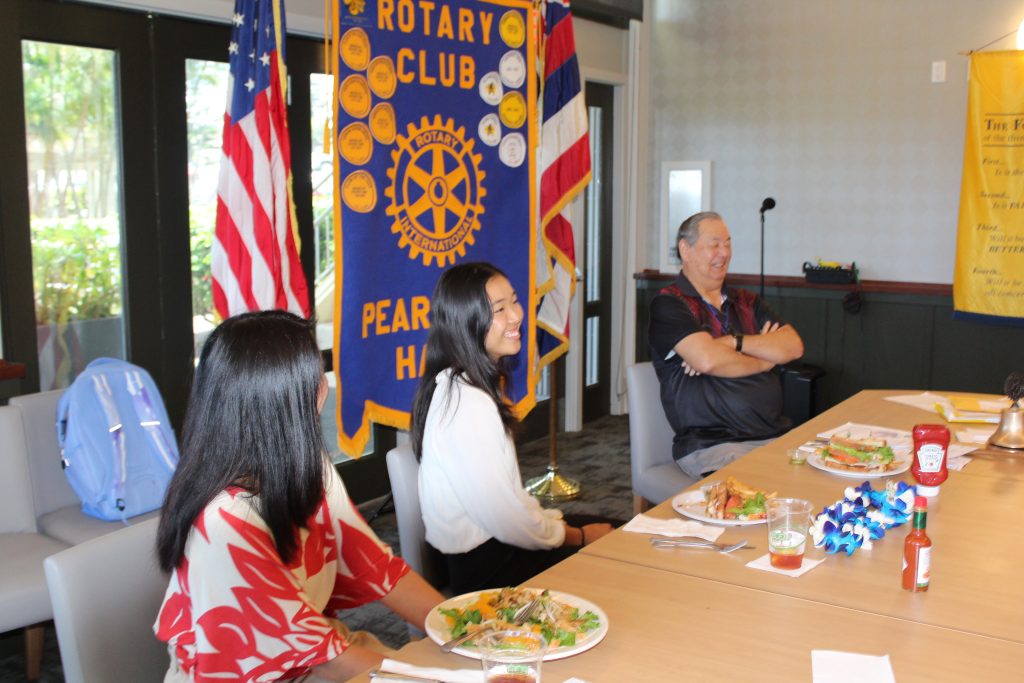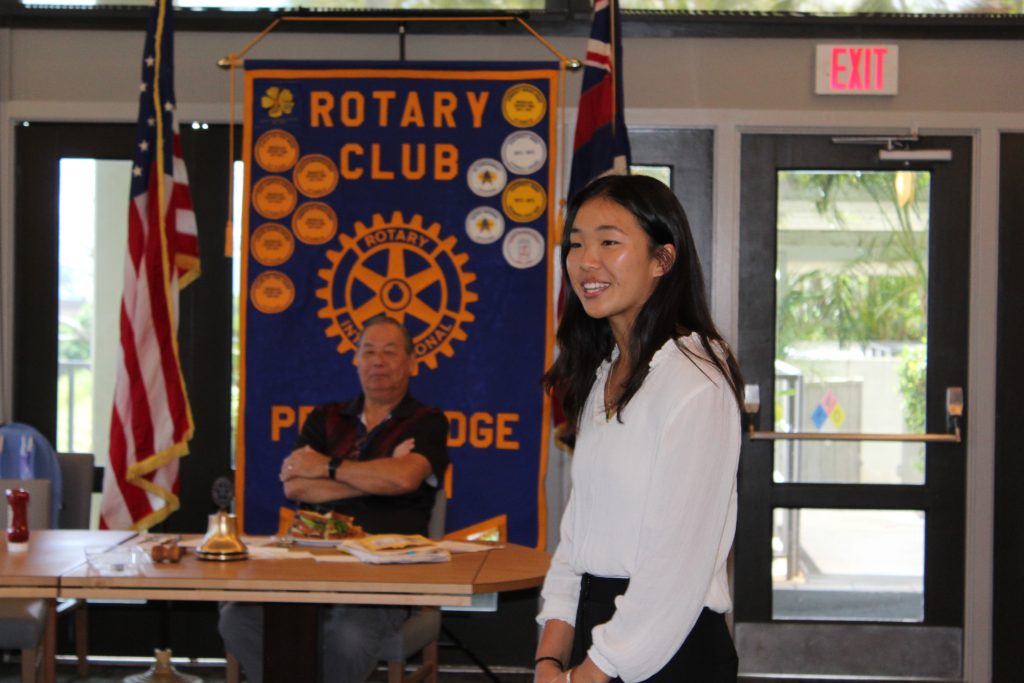 Photos by Barry Villamil | MyPearlCity.com