FOR IMMEDIATE RELEASE
Contact: Chad Shishido
Academy Coordinator
Pearl City High School
[email protected] (808) 307-5692
September 19, 2023
Pearl City, Hawaii – The Fashion and Artisan Design Program at Pearl City High School, led by dedicated teacher, Ms. Wendy Oshiro, is excited to announce the successful culmination of an inspiring two-year collaborative project with Hawaii-based company, Tori Richard.
The project, a testament to the power of education-industry partnerships, resulted in the creation of a unique faculty and staff Aloha shirt. Students embarked on a journey that spanned the entire design process, from conceptualization to the fabrication of the shirt, under the guidance of Tori Richard's seasoned designers.
From the initial brainstorming sessions, where students infused their artistic talents and deep connection to Hawaiian culture, incorporating the ahupua'a system of land subdivisions, to the final stages of pattern creation and garment construction, students were provided an exceptional learning experience. Through regular interactions with the Tori Richard team, attending design meetings, and witnessing the transformation of their ideas into tangible designs, students gained invaluable insights into the professional design process.
The partnership exemplifies the potential of merging education and industry, offering students not only technical expertise but also fostering crucial skills in teamwork, communication, and problem-solving. This collaborative effort is a testament to the dedication of Ms. Oshiro, the students' boundless enthusiasm, and Tori Richard's unwavering commitment to nurturing young talent.
"We are immensely proud of our students and grateful to Tori Richard for this incredible opportunity. This collaboration has not only enriched their technical skills but also instilled in them a deep appreciation for the collaborative spirit of the fashion industry," said Ms. Wendy Oshiro, lead teacher of the Fashion and Artisan Design Program. The faculty and staff Aloha shirt was unveiled at a meeting to kick off the school year celebrating the culmination of this extraordinary project.
For more information about the Fashion and Artisan Design Program at PCHS, please visit www.pchs.k12.hi.us.
About PCHS:
Pearl City High School's academy program is known as the College and Career Academies of Pearl City High School. The College and Career Academies include specialized programs that provide students with a focused and rigorous education in a specific career field or college pathway. Our academies are designed to prepare students for post-secondary education and the workforce by providing hands-on learning opportunities, industry-specific curriculum, and connections to industry professionals.
Our academies offer a wide range of career pathways, such as healthcare, engineering, business, construction, and many others. Students take a series of courses in their chosen Program of Study (POS), which may include honors or Advanced Placement courses, as well as specialized courses that provide training in specific skills and knowledge areas. In addition to classroom instruction, our academies provide opportunities for students to participate in internships, job shadowing, and other work-based learning (WBL) experiences. These experiences allow students to gain real-world experience and develop industry-specific skills and knowledge, as well as build professional networks and connections. One of the key benefits of our academies is that they help to improve student engagement and success. By providing students with a clear career pathway and a focused, relevant education, these programs help to motivate students and improve their academic performance. They also help to increase high school graduation rates and post-secondary enrollment rates, as well as prepare students for high-demand, high-wage careers in Hawaii's growing industries.
About Tori Richard:
Headquartered in Honolulu, Tori Richard is a resort lifestyle company. A designer and manufacturer of men's and women's ready-to-wear, licensed apparel products, and uniforms, Tori Richard has epitomized resort living since 1956. Driven by an appreciation of unique fabrications and globally inspired prints, the garments produced are one of quality workmanship, sophistication, and good taste. A family-run business to this day, Tori Richard believes in commitment to quality, customers, employees, and the community. www.toririchard.com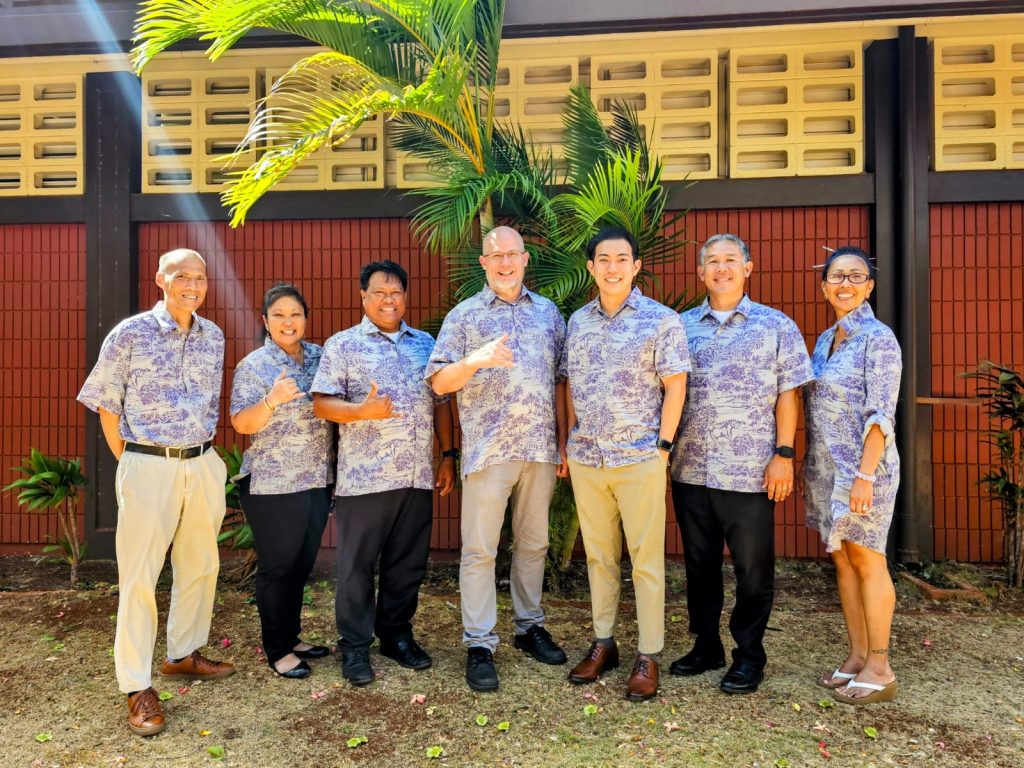 A snapshot of our dedicated Pearl City HS Administration Team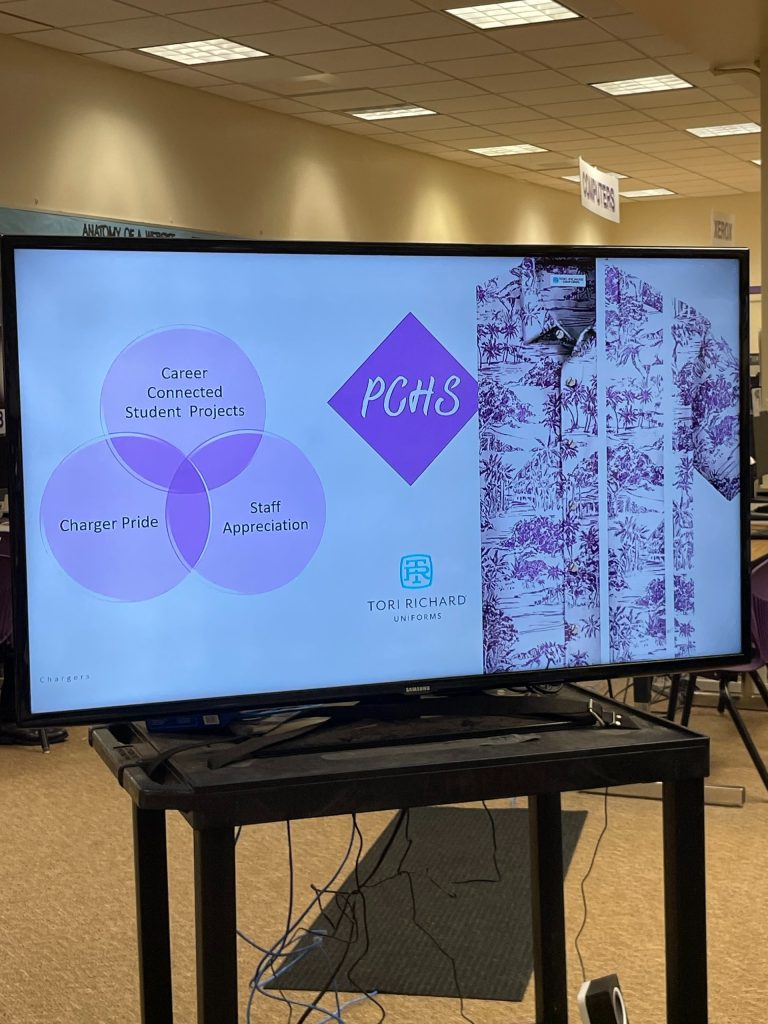 Garment unveiling to faculty and staff at our school year kick-off meeting.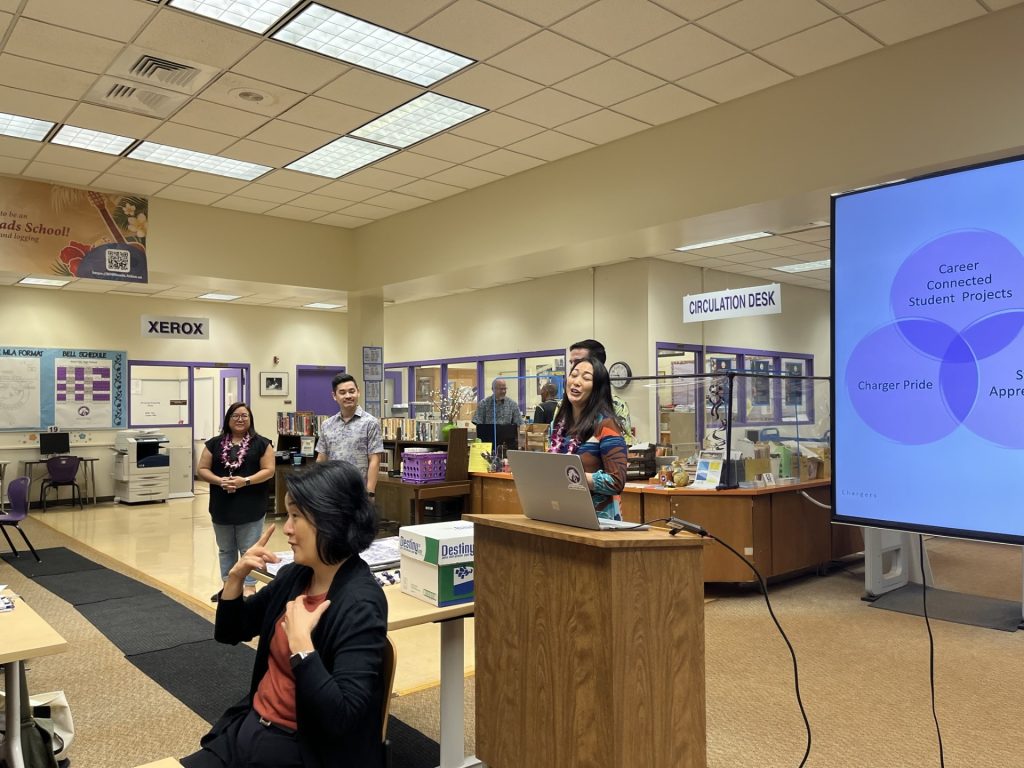 Tori Richard representatives actively participated in the faculty unveiling.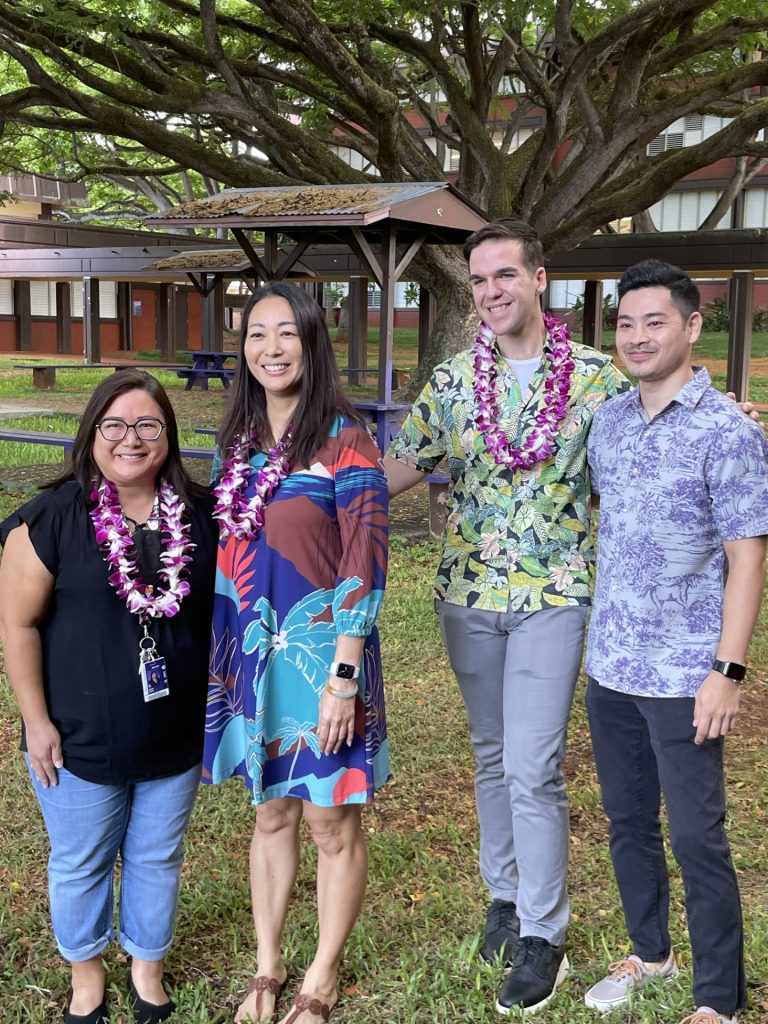 In the photo, you'll see Pearl City HS Fashion & Artisan Design teacher Wendy Oshiro, Tori Richard Vice-President of Human Resources Kathy Fujiwara, Tori Richard Textile Artist Thomas McLaughlin, and Pearl City HS Academy Coordinator Chad Shishido, during the collaboration event.