By Barry Villamil
Congratulations to the Pearl City Chargers Girls Air Riflery Team who captured the 2023 Oahu Interscholastic Association Girls Air Riflery Team Championship on Saturday, October 14 at Moanalua High School. The team also placed in the top 12 as individual medalists. The Charger girls qualified for the 2023 HHSAA State Air Riflery Championships to be held on Tuesday, October 31, 2023, at Neil Blaisdell Center.
Lelan Aranaydo, Head Coach, 2023 OIA Champion Pearl City Chargers Girls Air Riflery Team
"The Girl's team worked hard throughout the season and was ecstatic that the girls were able to show it and proudly represent Pearl City and bring home the Championship. It was a back and forth battle between us and a talented Moanalua team and our girls were able to remain calm and bounce back after being down 11 points going into the final kneeling position. I wanted to highlight the drive of our returning girls from missing State Qualifiers to earning individual OIA medals. Shoutout to Reagan Chang for finishing 4th place as a freshman! And top scorer Jenna Liang was able to remain sharp on a challenging day and clutch the win for the Girls Team! Also big thank you to the parents for coordinating/food and supporting the team. Onwards to States. Go Chargers!"
Top 12 Individual Medalists
Jenna Liang – 2nd (535/622.0)
Reagan Chang – 4th (527/607)
Chloe Obuhanych – 6th (518/604)
Serah Yogi – 10th (512)
Darien Yee – 12th (508)
*Top 8 finishers competed in Final Stage
Pearl City Team – 2057
Jenna Liang, Chloe Obuhanych, Brooke Hirota, Ella Wenceslao
Girls Team
All of our girls (8) qualified to the State tournament.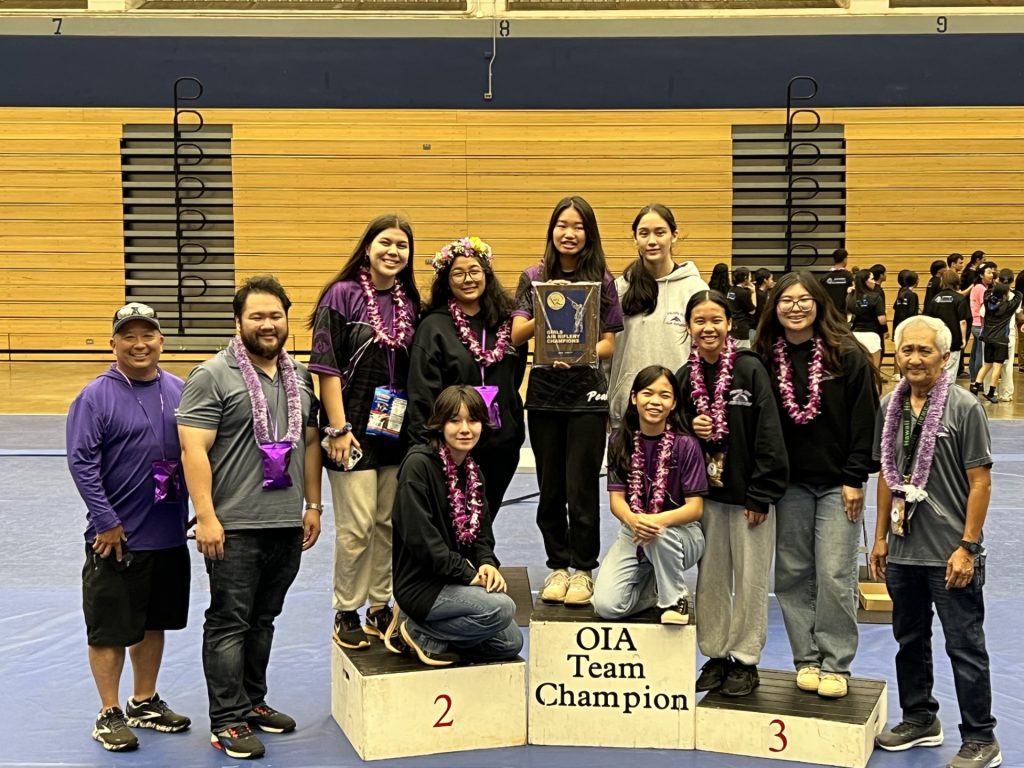 In Photo: Gordon Aihara, Lelan Aranaydo, Stecya Santos, Brooke Hirota, Reagan Chang, Jenna Liang, Chloe Obuhanych, Serah Yogi, Ella Wenceslao, Darien Yee, Lester Aranaydo