Congratulations to the Pearl City Chargers Bowling Teams who captured the 2023 Oahu Interscholastic Association Western Division Boys and Girls Bowling Team Championships yesterday at Schofield Lanes.
Congratulations to iconic Charger championship coaches Millie Gomes (Girls) and Tony Madrona (Boys), along with their outstanding assistant coaches for once again guiding the Chargers atop the championship podium.
ONE HEART ONE BEAT
Tony Madrona, Charger Boys Bowling Head Coach
"Last night was so exciting for these young men. Going into the last season game down 120 pins against Campbell High School. We slowly chip away from the 1st and 2nd game we were still 90 pins down, till the last 3 frames of the last game, we gathered together and I told them "this would be the hardest 3 frames you will complete, but if you stay focused, it will be the most rewarding 3 fames you complete" One heart One beat! At the end we won by 70 pins. What a exciting finish.
The Pearl City OIA West Bowling Champions also celebrated Charger Senior Night for three very special, multi-championship winning senior bowlers. Congratulations on your amazing careers as a PROUD CHARGER CHAMPION!
KEIRA MIZUUCHI, ETHYN ALLEN, RYSHA MURAOKA
CONGRATULATIONS TO CHARGER BOYS AND GIRLS OIA WEST INDIVDUAL BOWLING CHAMPIONS:
JAYDEN KADOOKA AND SAMANTHA (SAMI) KANEHAILUA
2023 OIA WEST GIRLS BOWLING CHAMPIONS
Alicen Ichimura
Kaila Kamahiai
Jayda Kanakaole
Samantha Kanehailua
Keira Mizuuchi
Rysha Muraoka
Aryanna Runyan
2023 OIA WEST BOYS CHAMPIONS
Ethyn Allen
Maddox Cayetano
Jayden Kadooka
Jason Kanakaole
Travis Ohta
Elliot Stiles
Titan Vickery
Jorden Yamamura
The Chargers Boys and Girls teams head to next week's OIA Team and Individual Bowling Championships.
GO CHARGERS! CHARGER PRIDE!
Photos courtesy of Head Coach Tony Madrona
CONGRATULATIONS 2023 OIA WEST CHARGER BOWLING CHAMPIONS!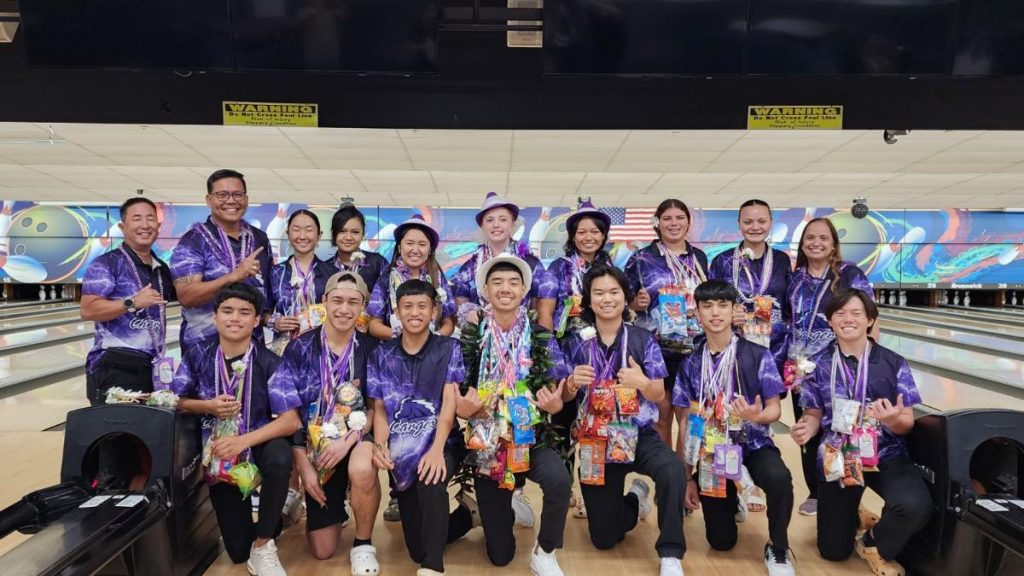 JAYDEN KADOOKA AND SAMANTHA (SAMI) KANEHAILUA
2023 OIA WEST BOYS AND GIRLS INDIVIDUAL BOWLING CHAMPIONS
CONGRATULATIONS!