Congratulations to the Pearl City High School Charger Girls Air Riflery Team who won the 2023 HHSAA State Girls Air Riflery Team Championship on Tuesday at the Neil Blaisdell Exhibition Hall. The Pearl City Charger Girls added the 2023 HHSAA State Girls Air Rifle Team Championship to their 2023 Oahu Interscholastic Association Girls Air Riflery Team Championship.
Lelan Aranaydo, Head Coach, Pearl City Charger Girls State Air Riflery Champions
"It was a satisfying feeling to have our Girls Team extend their success from coming off a shaky OIA narrow win into a dominant State Championship win! We had eight girls representing Pearl City and I would say the team really benefited during our indoor bootcamp, wasn't fazed by their nerves this time, and proved they are the best team to beat. Usually, we come out the gate slowly and trail in points after prone position playing catch up. However, this tournament Jenna Liang (2nd place OIA finalist) posted the best prone score on the day – 97/99 out of possible 200 – which really set the tone for the tournament. After prone the girls had a two-point lead over Sacred Hearts Academy, and then a nine-point lead over Kamehameha Hawaii, finishing the kneeling position with a team score of 2129 leading in every round. There were a lot of talented individuals scores, but Pearl City has as much talent and depth resulting in back-to-back HHSAA State wins!
Thank you again to the parents for their continued time/refreshments/support – It was great to see all the parents present and cheering. Special shout out to Coach and Armorer Gordon Aihara who has been Key component to Pearl City's success – There were some worrying rifle issues leading up to each tournament and Gordon was able to set each athlete up for success."
Congratulations to the State Champions and Pearl City Chargers Girls Head Coach Lelan Aranaydo, PCHS Chargers Boys Head Coach Lester Aranaydo, Assistant Coaches, and Charger Air Riflery ohana and supports.
CHARGER PRIDE! EXCELLENCE WITH HONOR…
Photos courtesy of Lelan Aranaydo PCHS Air Riflery ohana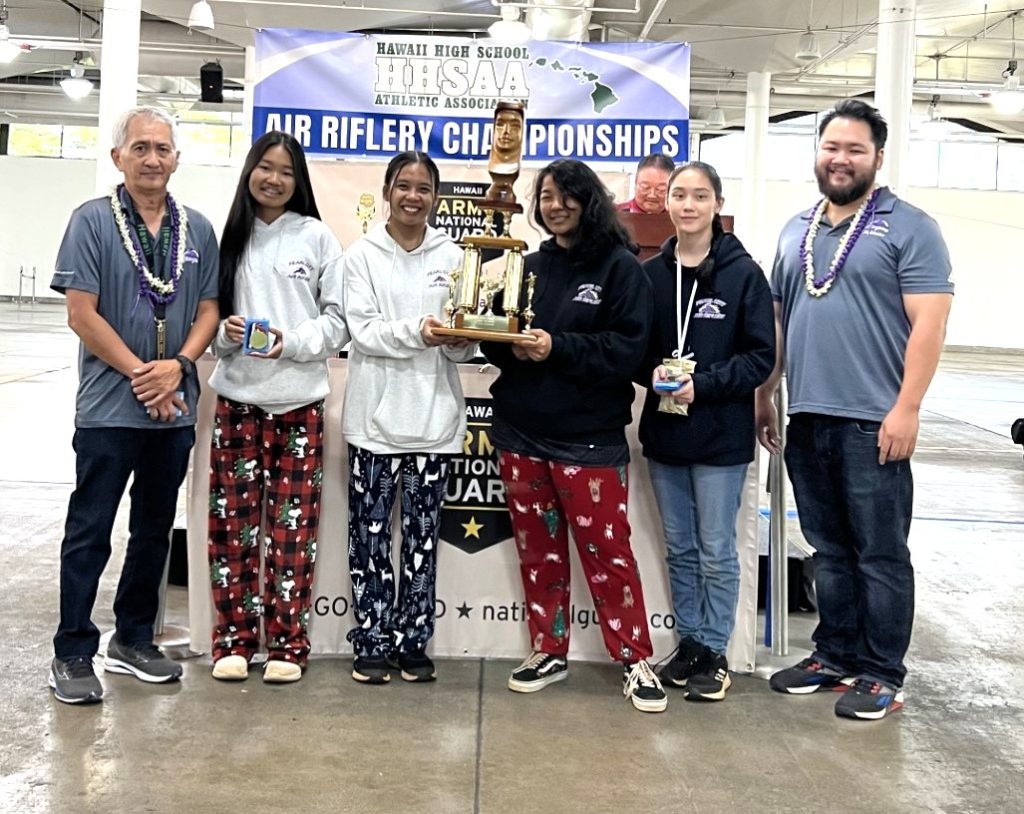 Girls Team Scores
Pearl City HS Girls: 2129
Jenna Liang, Ella Wenceslao, Brooke Hirota, Chloe Obuhanych
Kamehameha Hawaii: 2103
Sacred Hearts Academy: 2085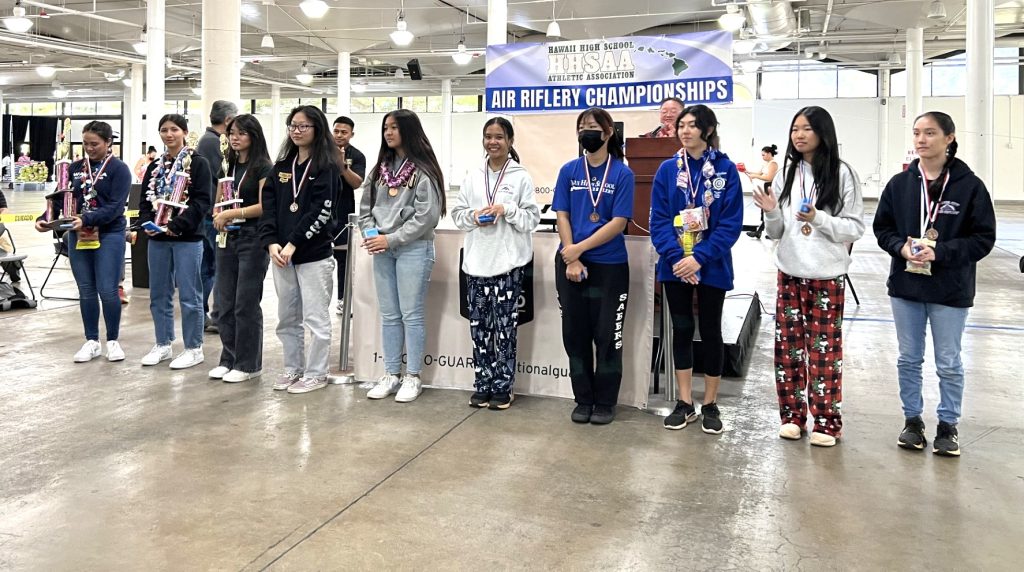 Top 10 Individual Medalists
Ella Wenceslao – 8th to 6th (538 / 623.6)
Jenna Liang – 9th (537)
Chloe Obuhanych – 10th (536)
*Top 8 finishers competed in Final Stage